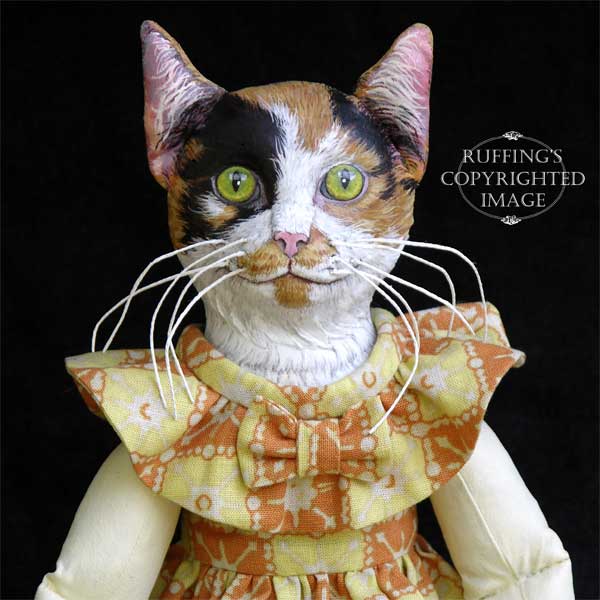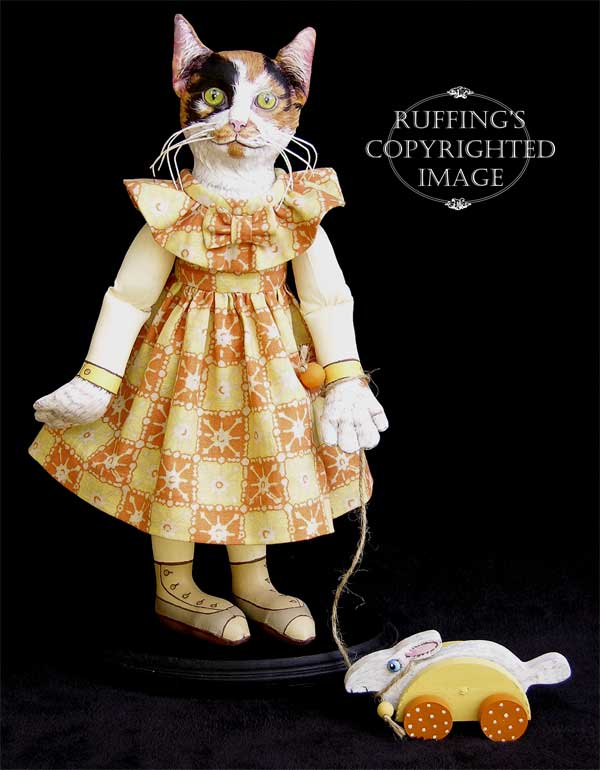 Hedda is a handmade original, one-of-a-kind calico cat art doll, hand painted and hand sculpted in paperclay by artist Max Bailey. Hopper is her white rabbit.
This is Hedda. She and Hopper the bunny are the best of friends. She's a calico cat with watchful green eyes. He's a white bunny with inquisitive blue eyes. They see everything that everybody is doing.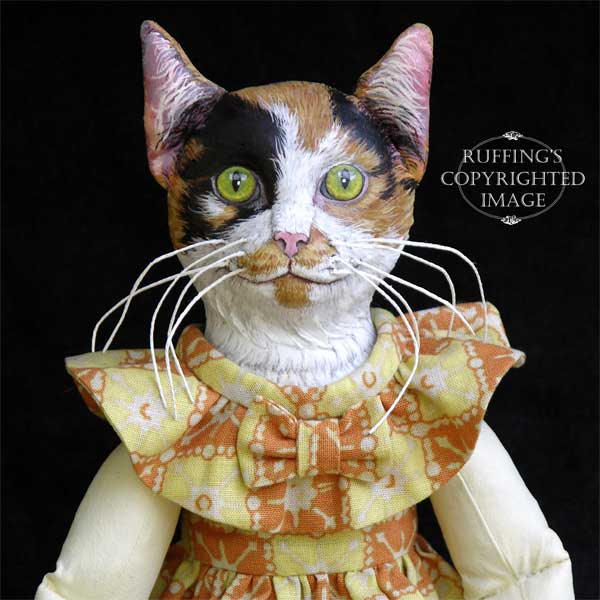 Hedda and Hopper also have big ears. They listen to anything anybody says. There are no secrets these two don't know.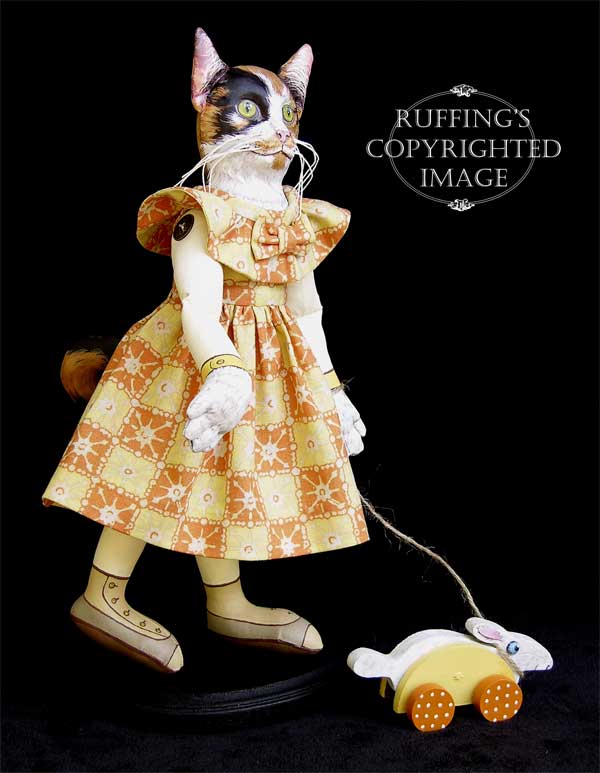 If there is something (or a bit of nothing) you would like to know, they would be happy to tell you about it. They provide this very valuable service for no charge, which is somewhat less than the cost of a newspaper.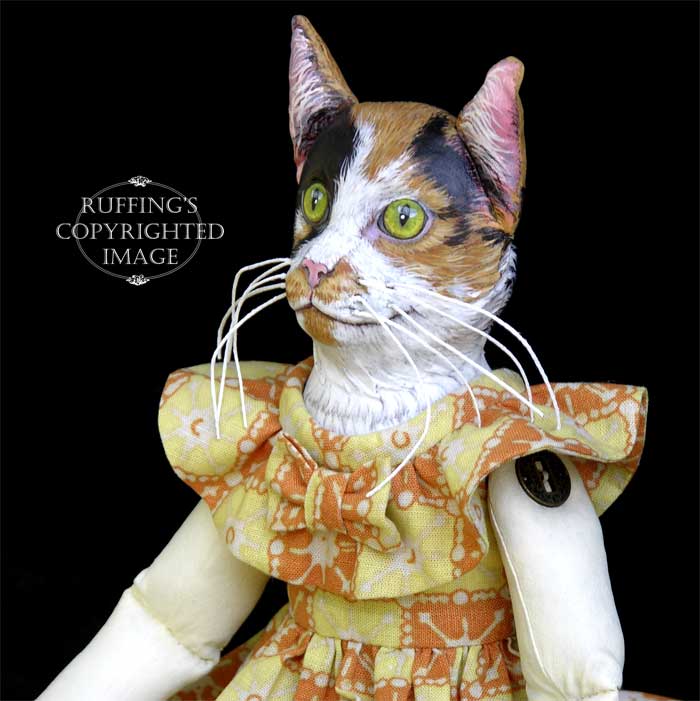 Who was invited to Lulu's party? What did Samantha name her new kittens? Who bought that pretty dress that was in the shop window…the one with the big bow in front? They know.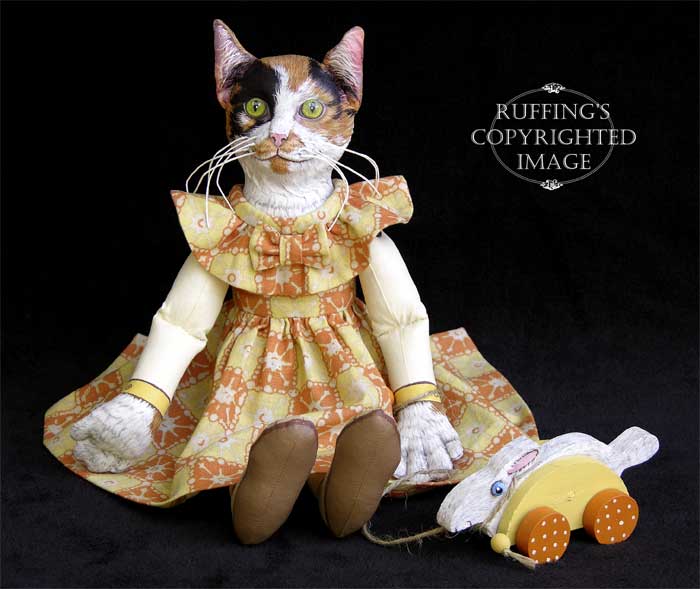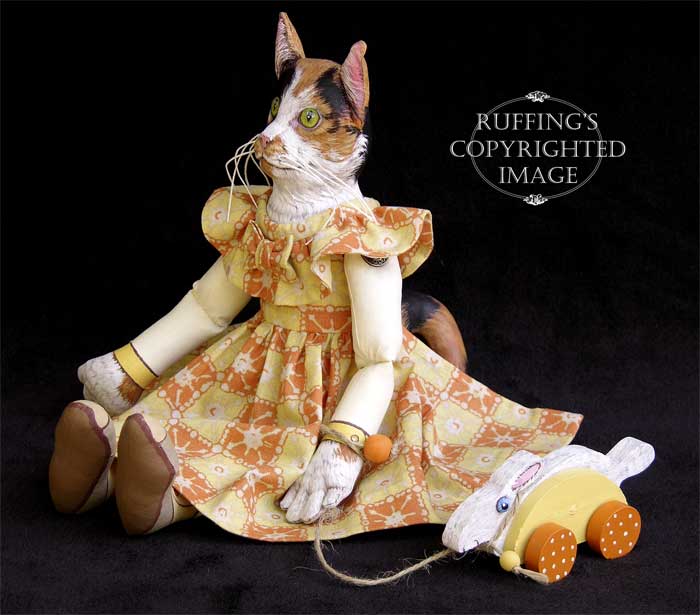 Hedda is wearing that soft yellow and orange dress, with the big bow and a ruffle that frames her pretty face. Her arms are button jointed with antique looking metal buttons of filigreed gold on black, so she can easily pose.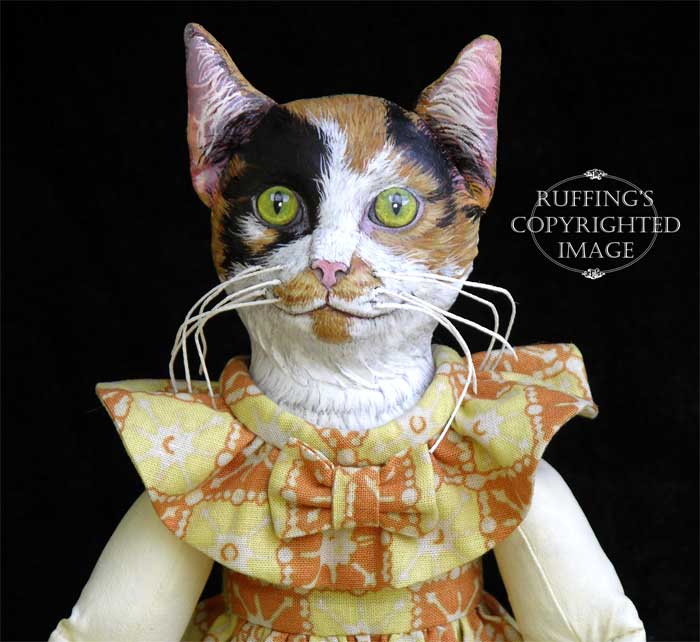 Her blouse is cream colored with yellow cuffs, painted on, as are her white bloomers with yellow polka dots, and her two-toned high button shoes. She's an original one-of-a-kind work of art created from my own design and pattern, and is made from 100% cotton fabric which I sewed, stuffed, and completely hand painted with acrylic paints. I made her dress from 100% cotton fabric, and it too is created from my own design and pattern.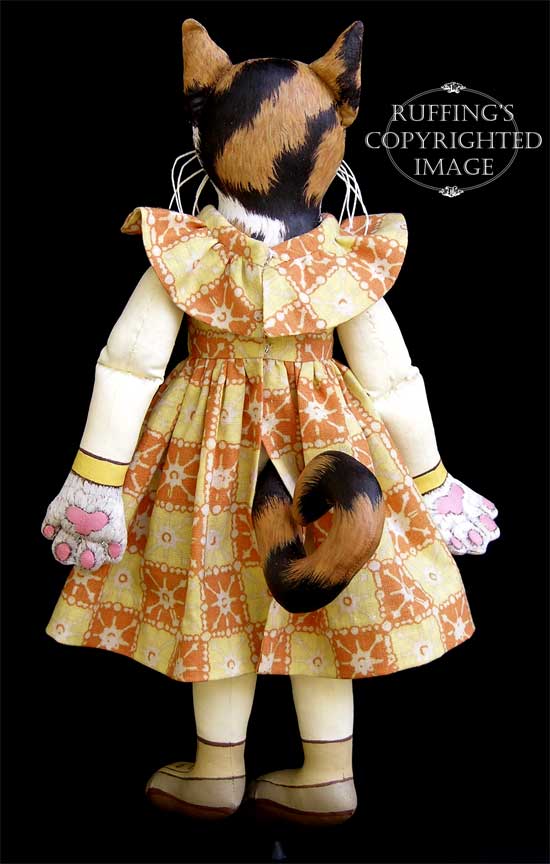 Hedda is 13 inches tall. Her face was sculpted from paperclay smoothed into her fabric head, and her stiffened pearl cotton whiskers were threaded through the paperclay before it dried.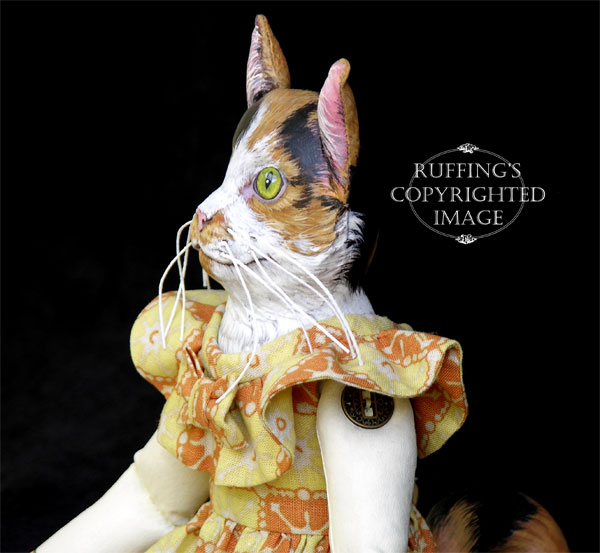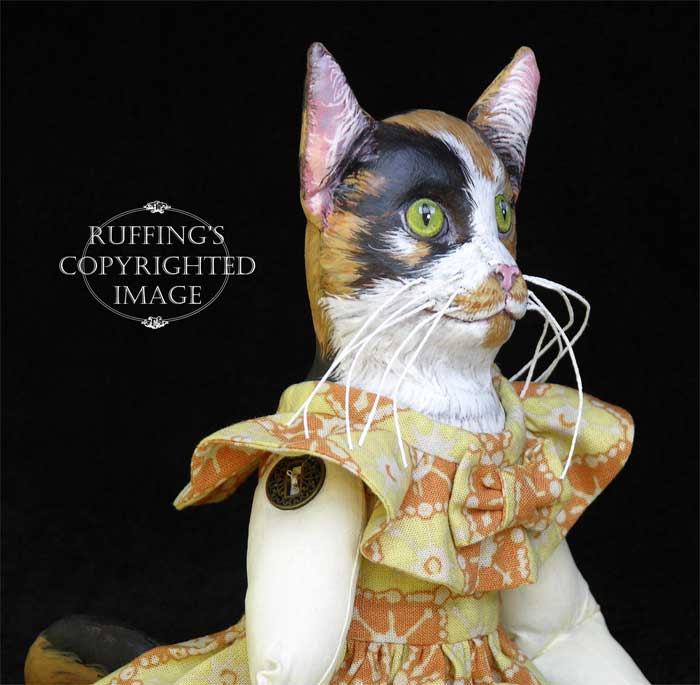 Hopper the white bunny is made of wood. I painted his eyes a brilliant blue and coordinated his colors to match those in Hedda's dress. He's about 4 ½ inches long and 2 inches wide.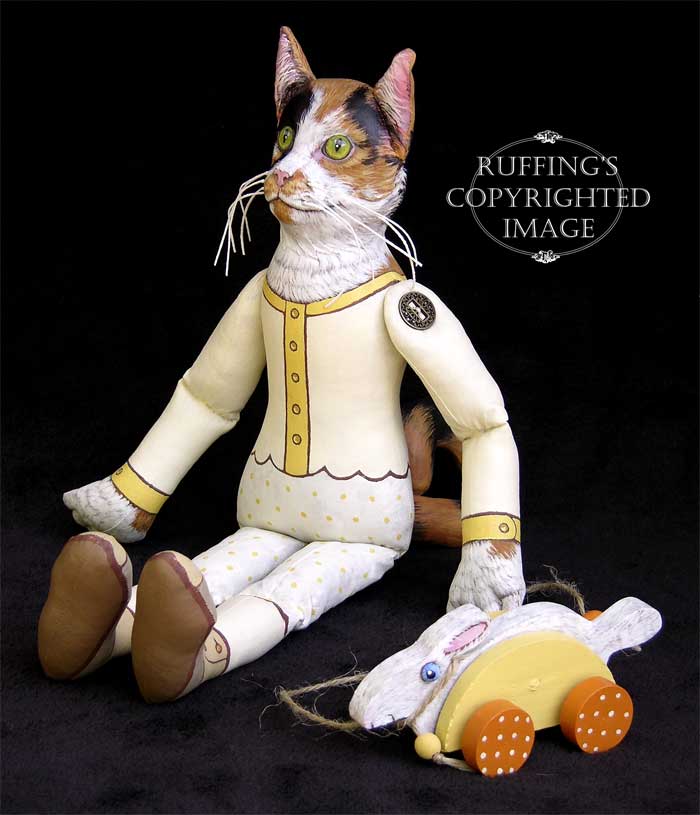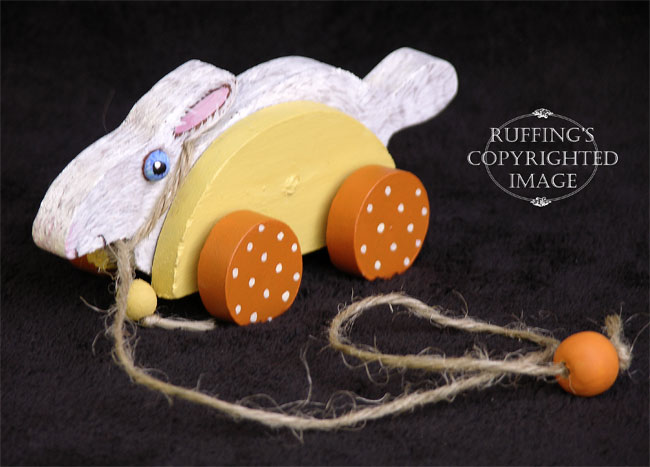 Hedda's curly tail allows her to sit up all by herself on a shelf or a table, or in a cabinet. She can also sit in a chair or stand with a doll stand. (Chair and doll stand not included.)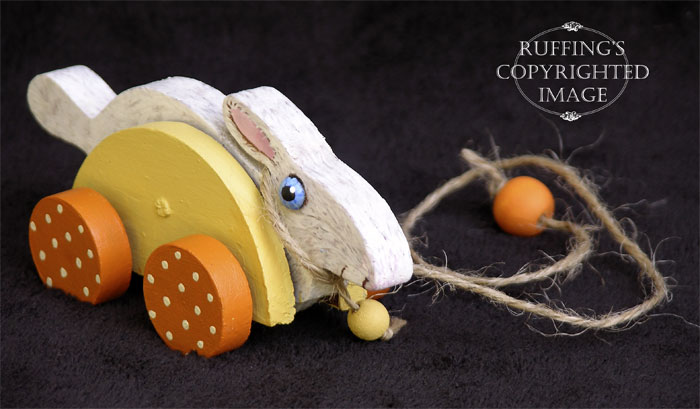 She is signed and dated, and sealed with matte varnish for protection and preservation. Hedda and Hopper are one-of-a-kind original works of art and are meant for display only. They come with a hang tag, a certificate of authenticity, and a copy of her story.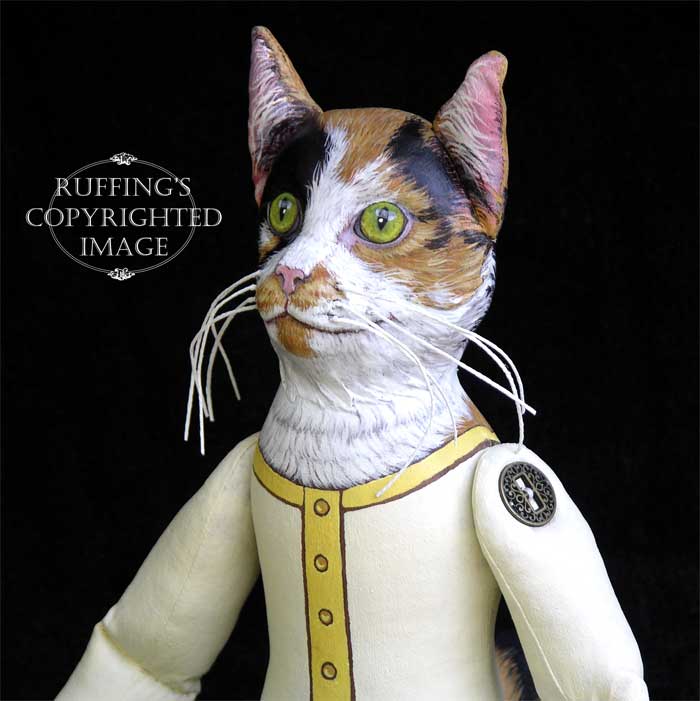 Hedda and Hopper are available for $649.99. Please inquire to [email protected]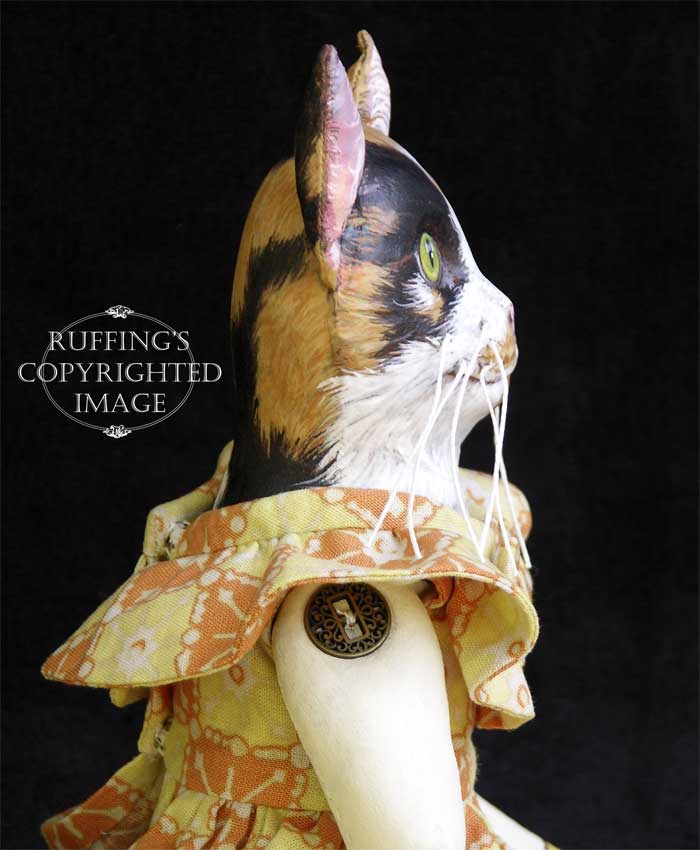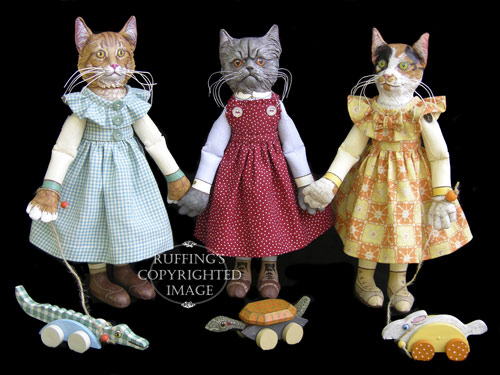 Hedda and Hopper's friends are Ginger and George (left) and Crabby Alice and Ruthie (center).