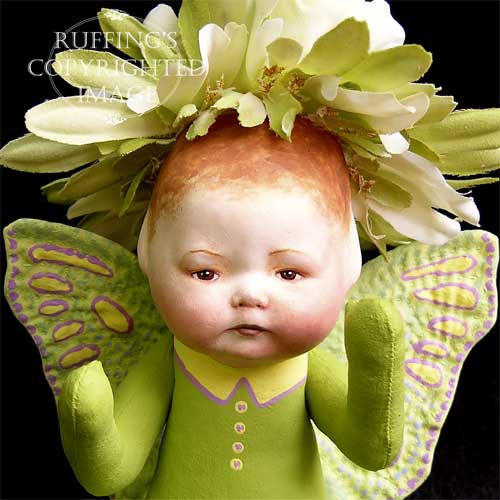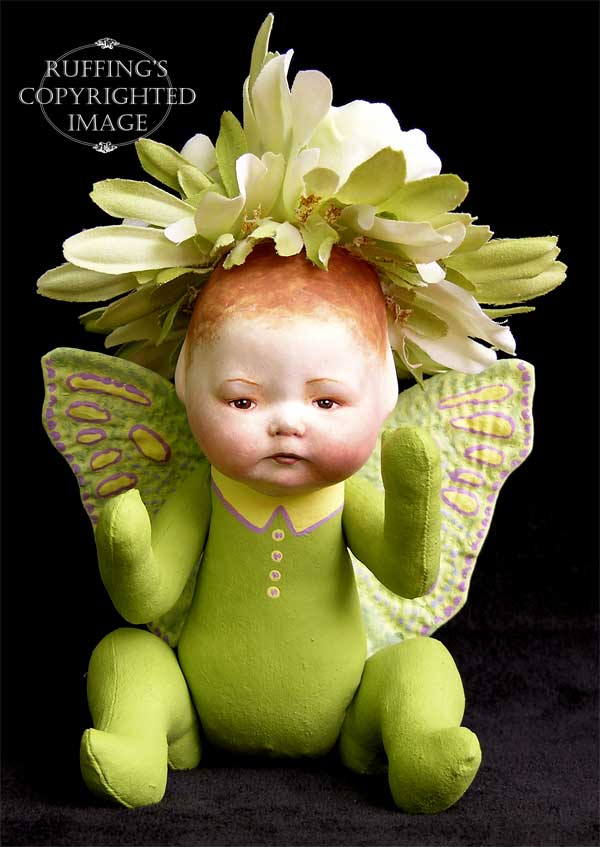 Greta is a handmade original, one-of-a-kind chrysanthemum flower fairy art doll, handmade and hand painted by artist Elizabeth Ruffing.
This is Greta. She is a baby chrysanthemum fairy. Chrysanthemums are a symbol of hope.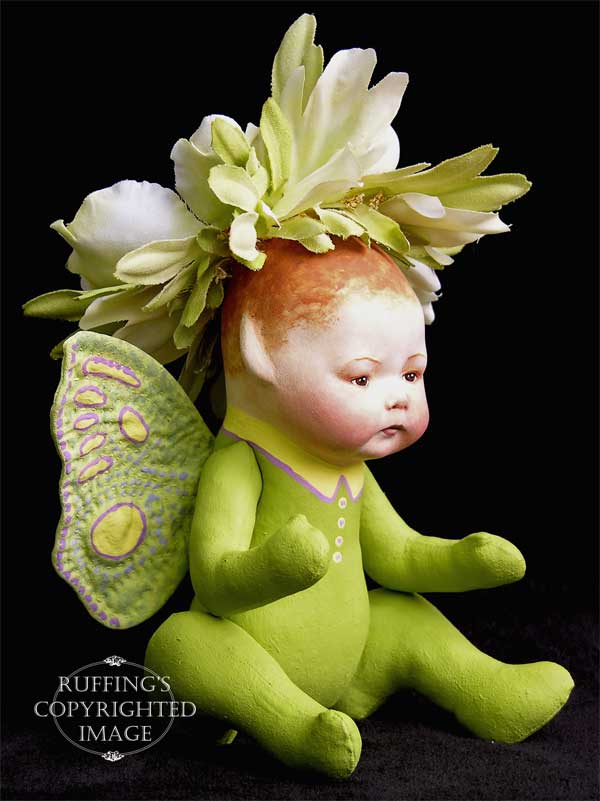 Sometimes when Greta is sitting in the garden, bees come to visit her, mistaking her for a flower. She doesn't mind. They kind of tickle.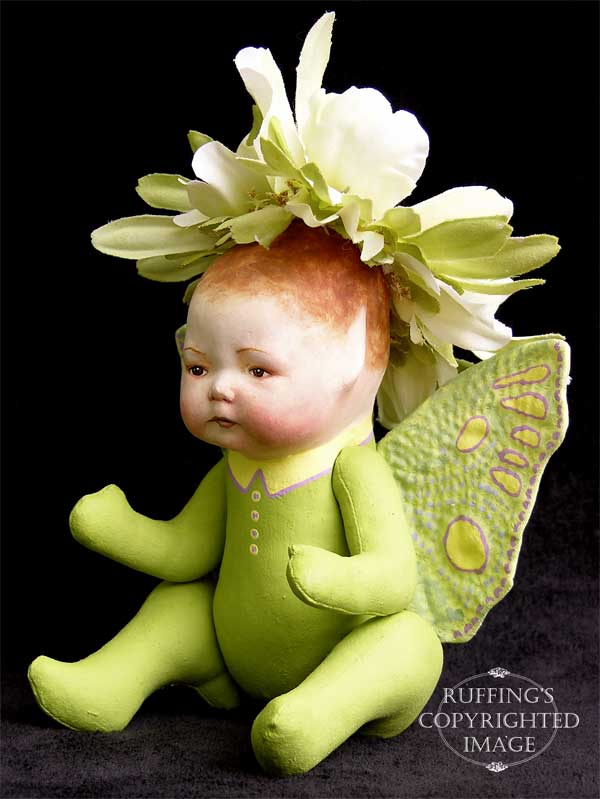 She likes to lie on her back under the chrysanthemums and watch the bumble bees buzz around with the butterflies.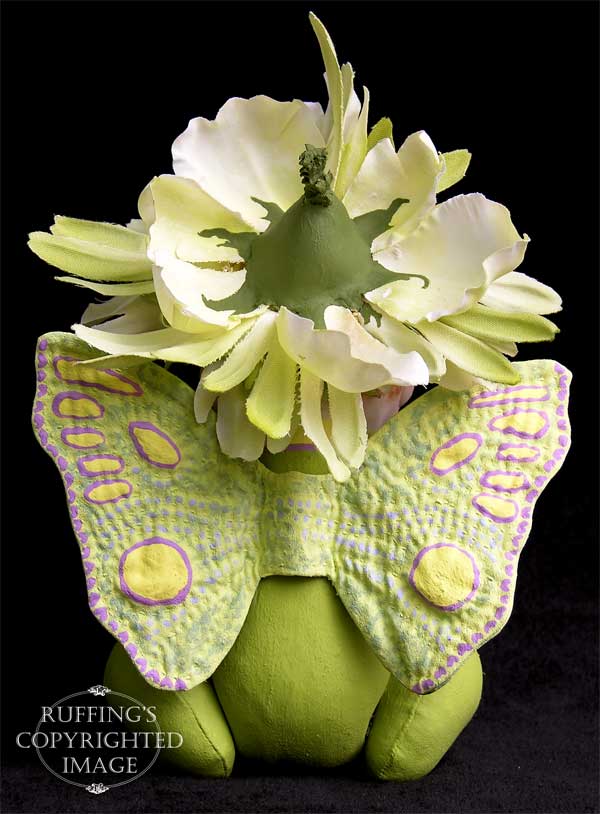 Sometimes she flies around with them. She fits right in with her pale green butterfly wings.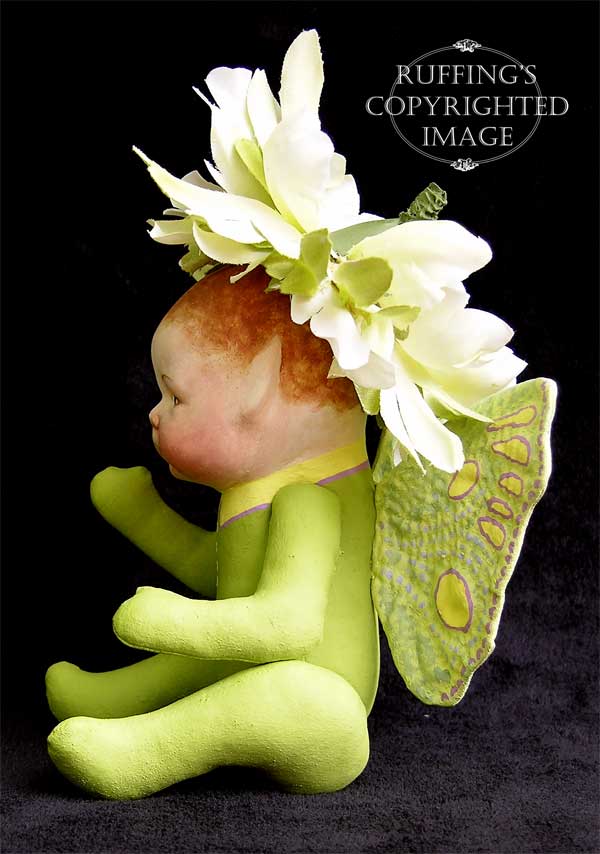 She has an adorable profile, with little pointed ears.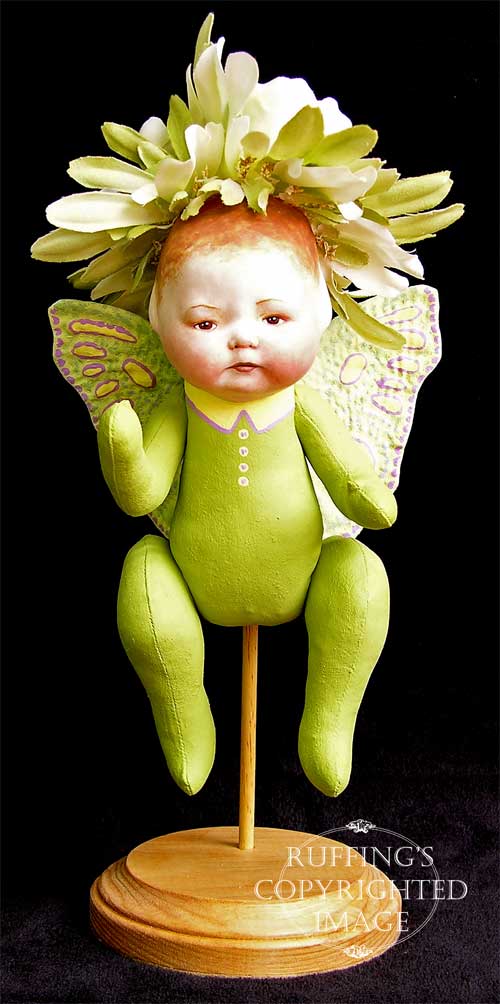 Greta has hidden button joints so she can move her arms and legs to express herself.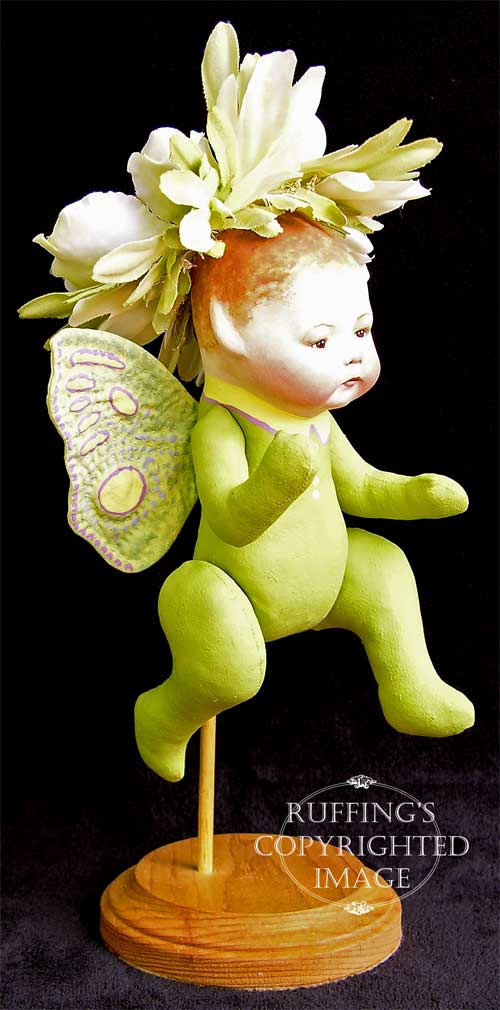 Greta has an oak-colored stand that lifts her in the air so she can practice flying, and running through the air. She enjoys that.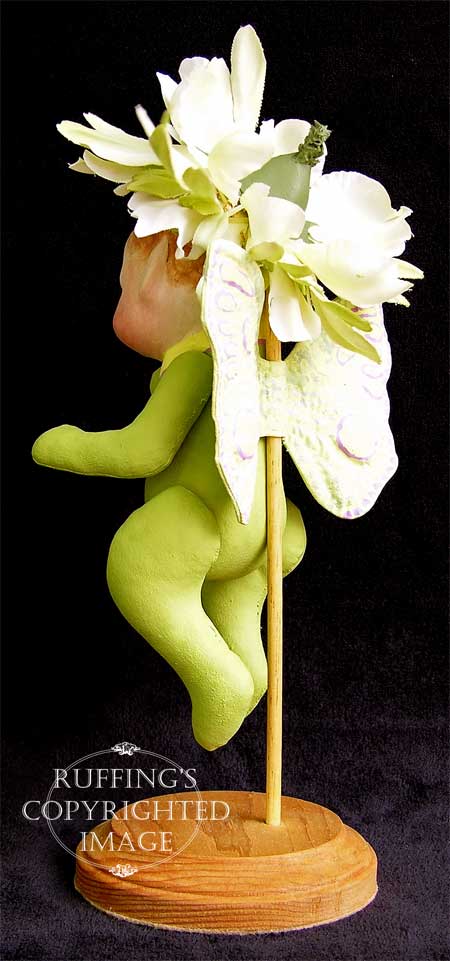 It fits in behind her hand-quilted wings.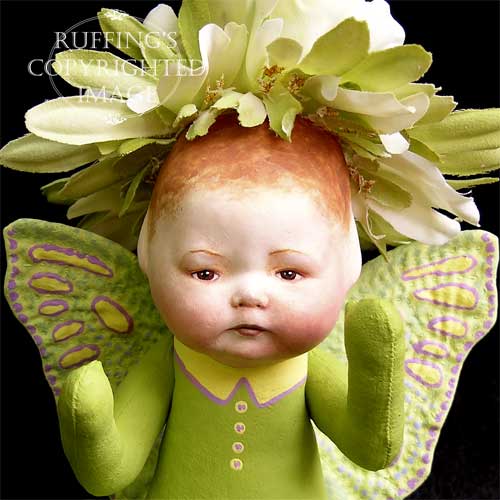 Greta the chrysanthemum flower fairy original art doll is entirely handmade by me. Her body is made of 100% cotton, from my own pattern, and is painted with acrylic paint. Her bottom is weighted so she can sit nicely. She has an antique reproduction baby face made from papier mâché. Her ears and head are made from paperclay. Her chrysanthemum hat is made of fabric flower petals, joined together with paperclay.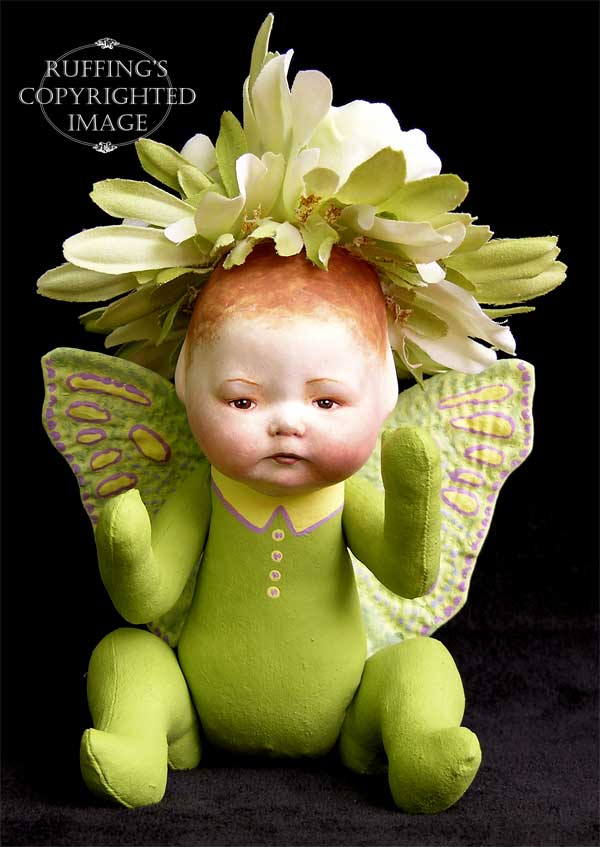 Greta is approximately 7 inches tall when seated, and approximately 9 inches long when lying down. She is approximately 11 inches tall while hovering on her stand. Greta is a work of original art and is meant for display only.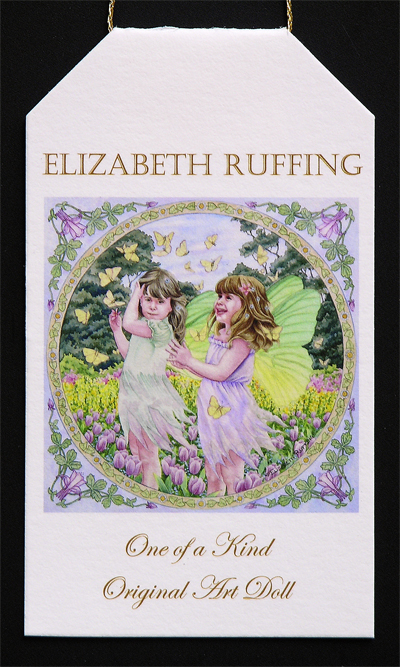 Greta the chrysanthemum flower fairy original art doll also comes with a hang tag. It is signed as well. The picture on her hang tag is "Fairies and Butterflies," printed from an original watercolor painting by me, Elizabeth Ruffing.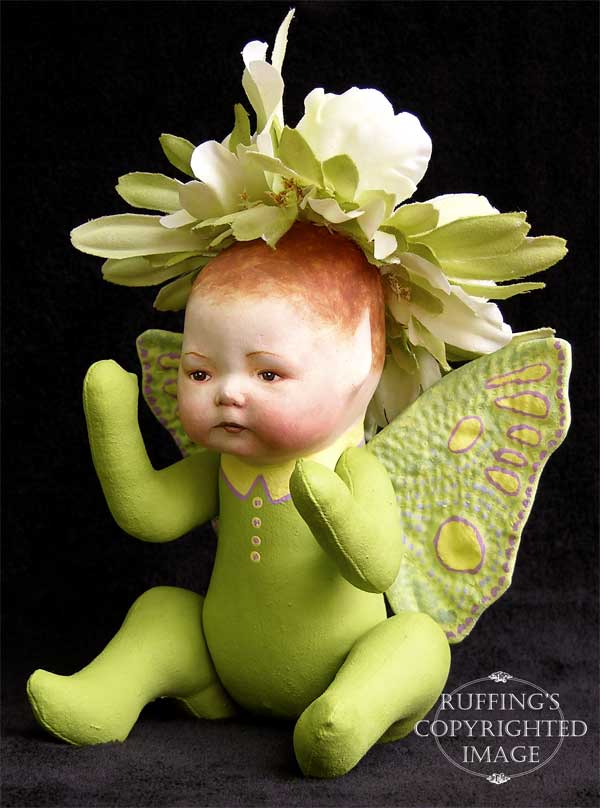 The image goes very nicely with Greta's green onesie, her yellow buttons and collar, her pale green chrysanthemum petals, and the green of her wings.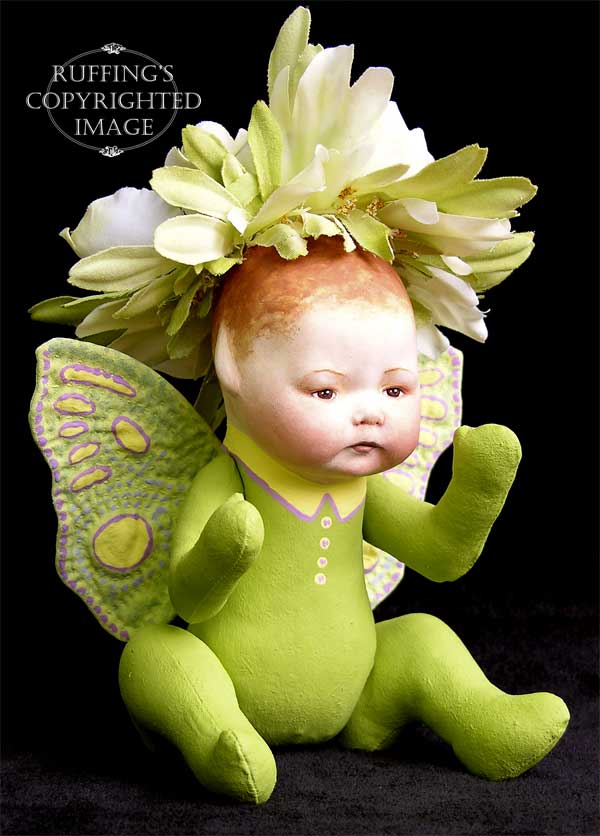 Greta's flower fairy friend is Rosa the rose flower fairy.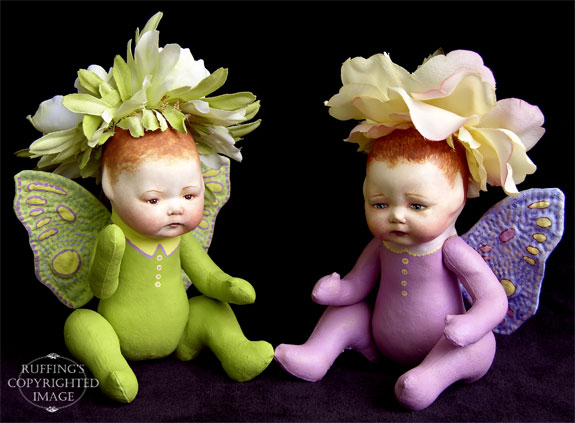 It's nice to have a friend to fly around with.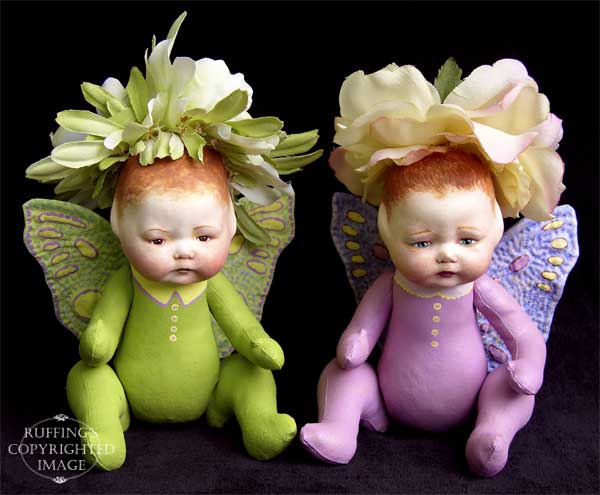 They like to watch the bumble bees and butterflies together too.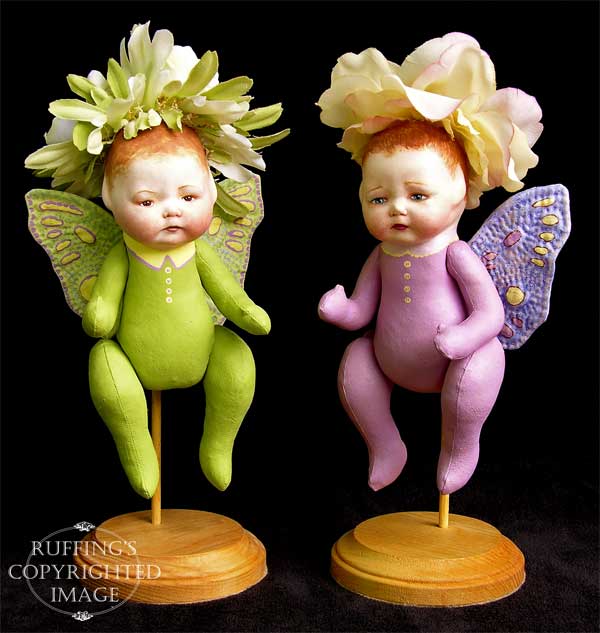 Update: Greta and Rosa the flower fairy original art dolls have been adopted. Thank you!