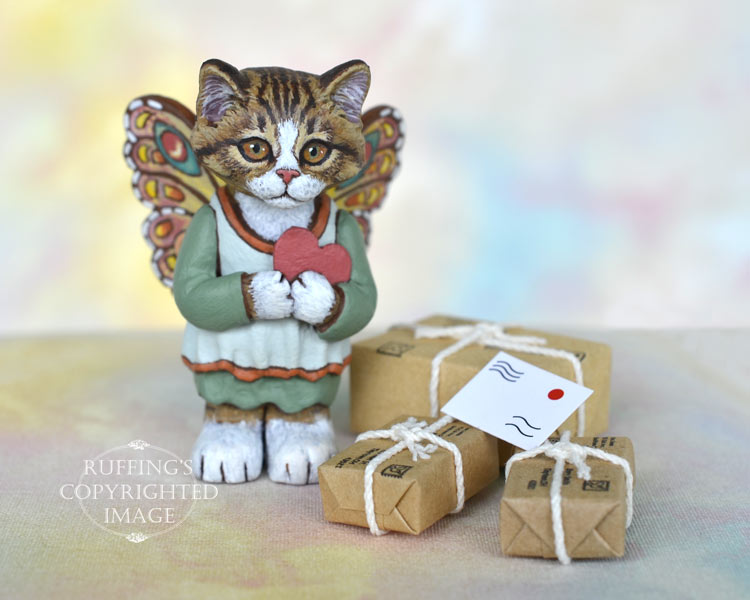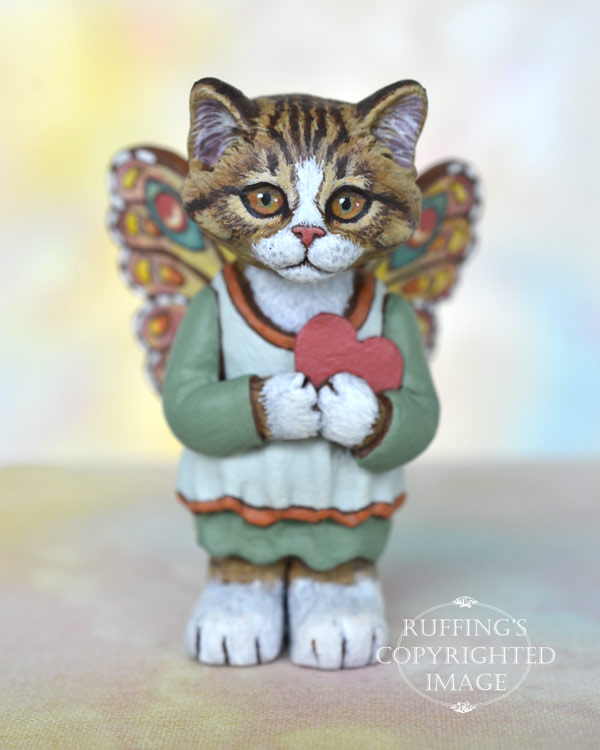 Sunnie is a handmade miniature original, one-of-a-kind cat art doll, hand painted and hand sculpted in paperclay by artist Max Bailey.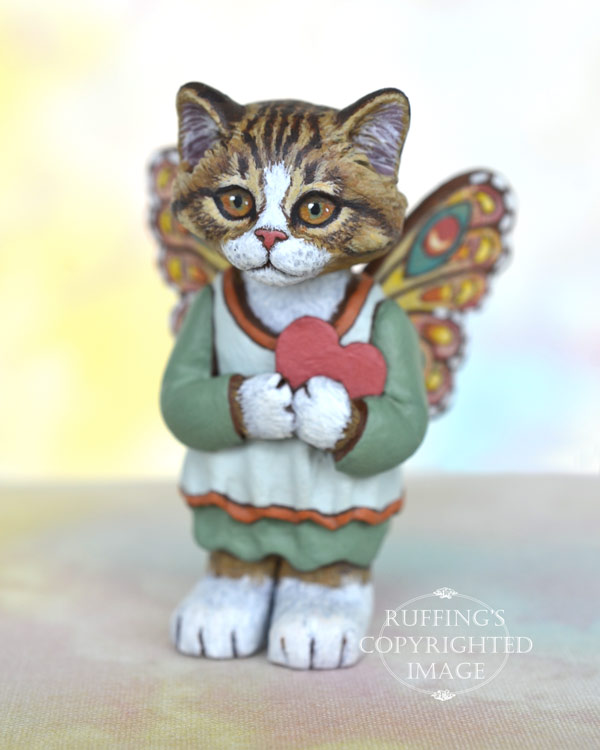 Sunnie is an earnest tabby-and-white fairy kitten with amber eyes whose mind is always turned toward making someone happy. She is thoughtful and giving, which is why she is known as "The Gift Fairy".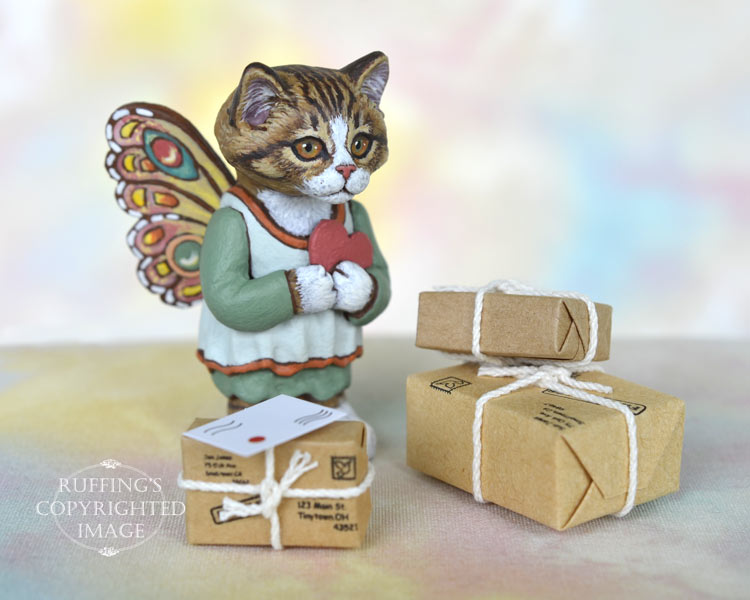 If you need cheering up, Sunnie will think up a present for you that she is sure you will like.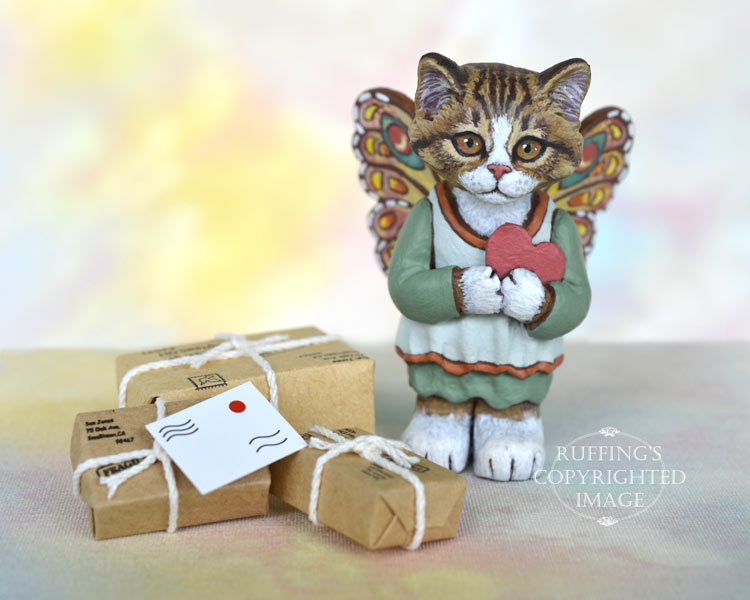 It may be a box of heart-shaped, rose-red cookies that she baked all by herself, or a wool scarf she knitted in your favorite color.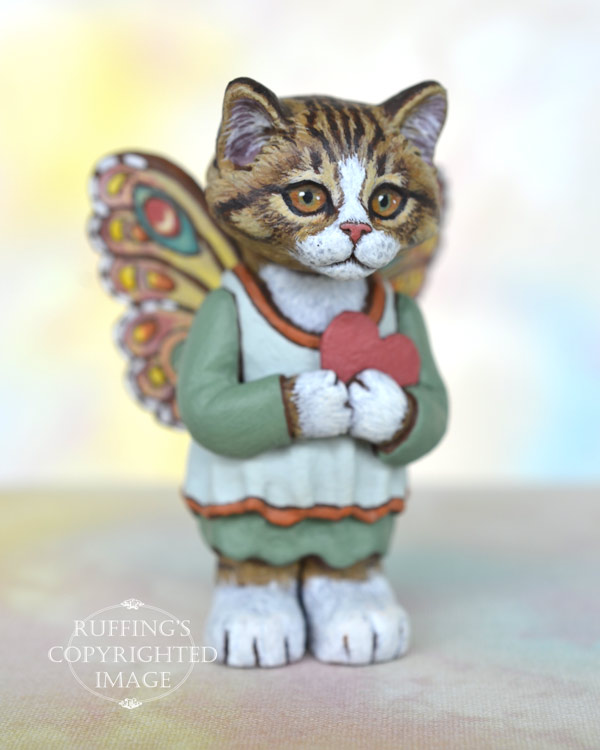 She may even bring you a note card with a poem she wrote especially for you.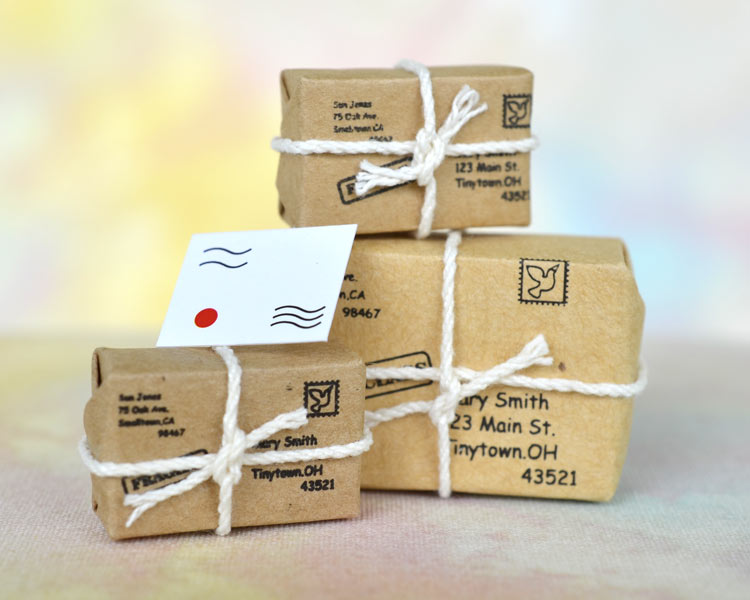 Sunnie does her very own First Class Air Mail delivery. How quickly her gifts are delivered often depends upon the direction of the wind.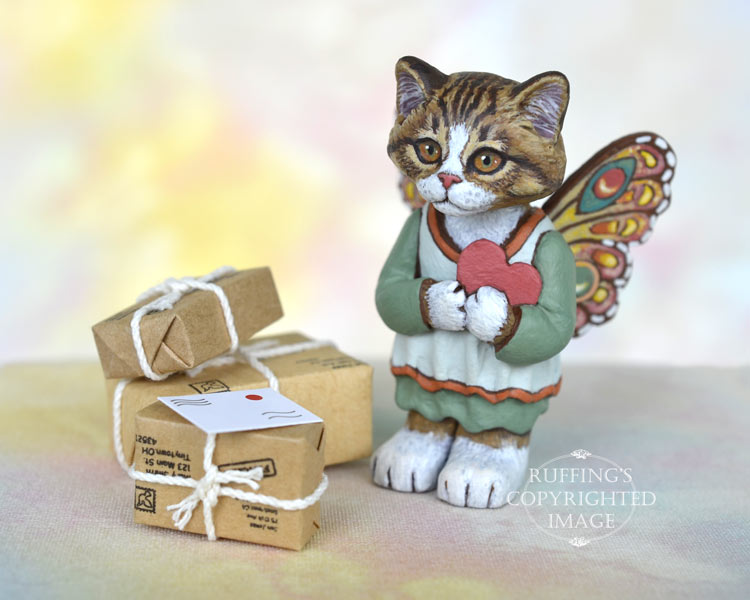 Sunnie's jumper is pale green with burnt-orange trim around the neck and hemline. She wears it over a soft leaf-green dress. The heart cookie she holds in her paws is antique rose.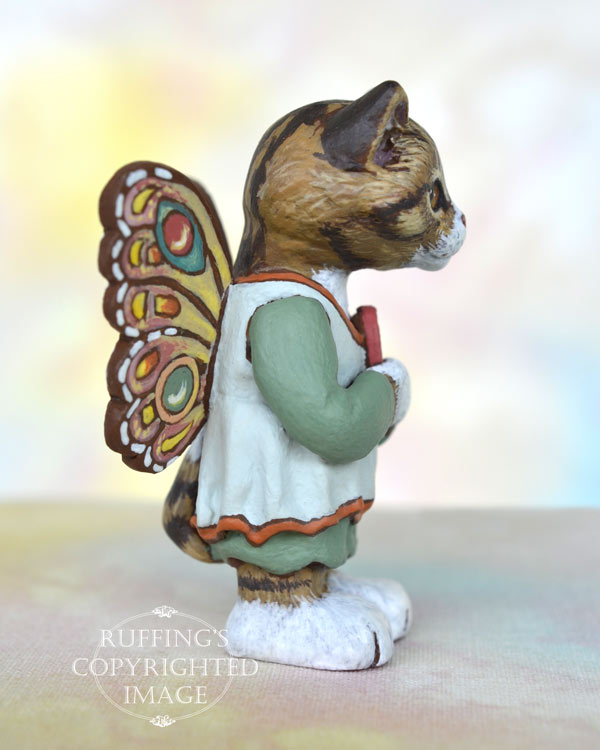 Sunnie's magical wings are sculpted in paperclay, just like herself. They are painted in tan with golden highlights blended out to rosy pink at the tips, and are accented with shapes of rose, green, pale orange, burnt orange, and yellow.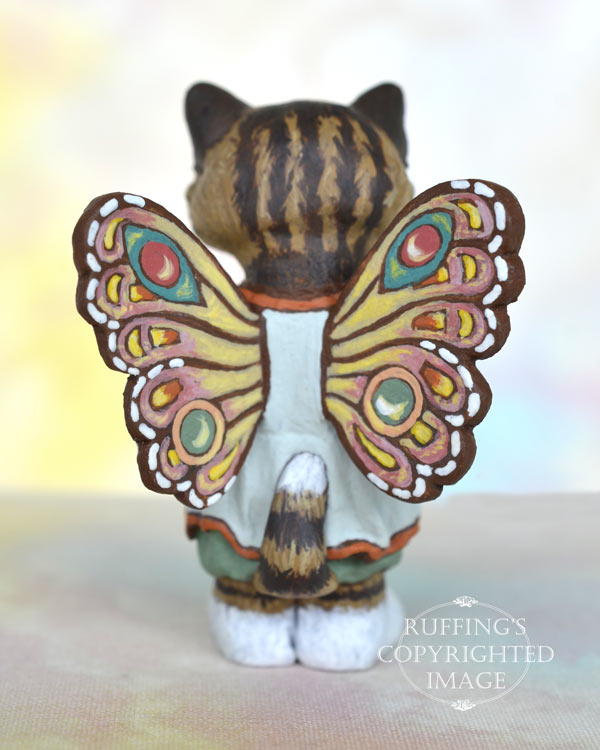 Sunnie is a one-of-a-kind work of art, and is meant for display only. She was sculpted from paperclay in multiple stages, to allow for drying and detailing.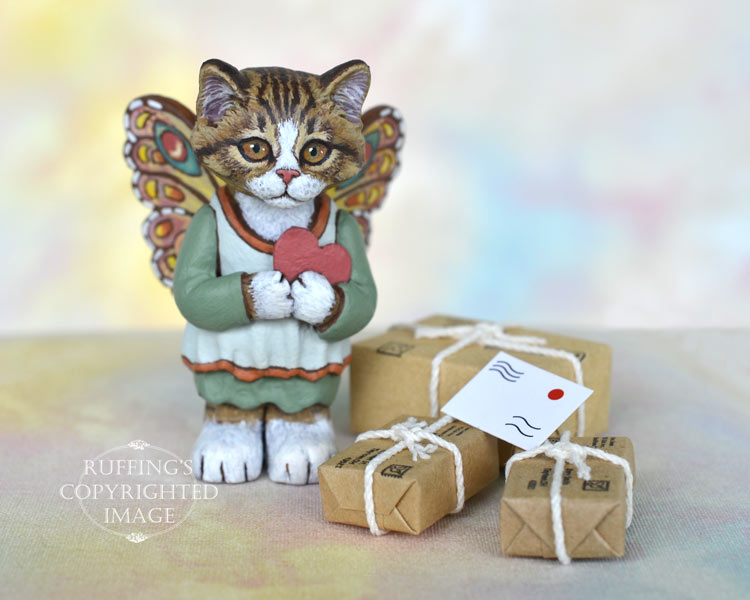 Sunnie was painted under a magnifying light, with tiny brushes, one hair at a time. She is signed and sealed with matte varnish for protection and preservation, and comes with a certificate of authenticity.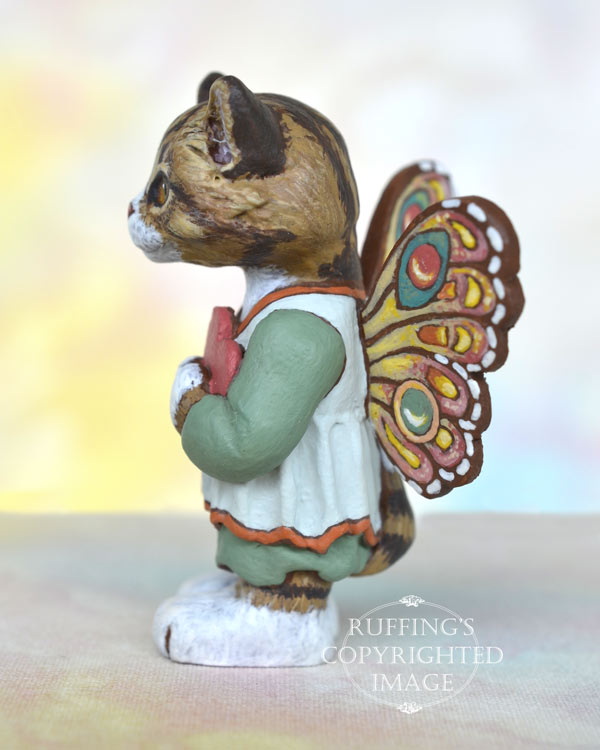 Sunnie is 1:12 scale. (One inch equals one foot.) She is 2 inches tall.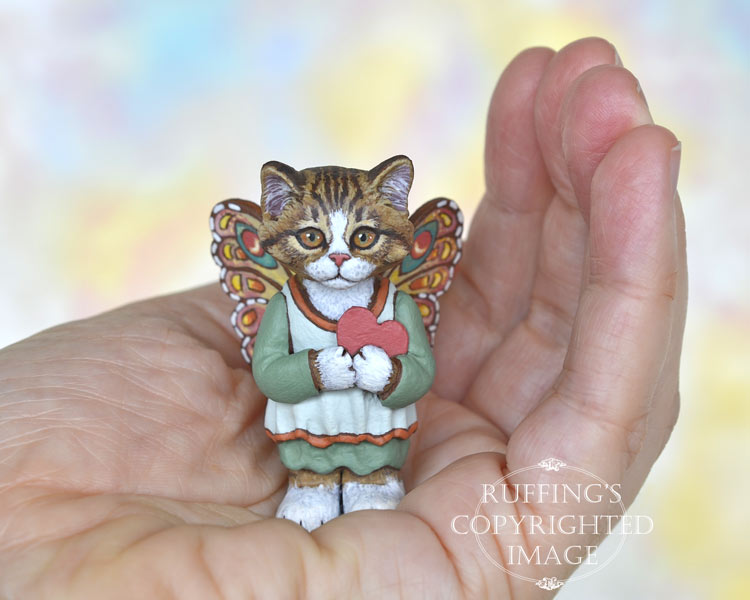 Update: Sunnie has been adopted. Thank you!