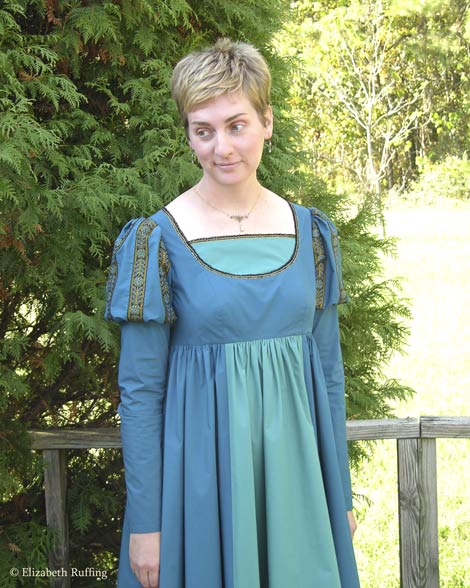 Happy Halloween! A few weeks ago, I decided I really wanted to make a Regency Era gown, and ordered a beautiful Sense and Sensibility pattern. I think I will make one for springtime. As Halloween got closer, a week away actually, I suddenly decided I was going to make a similar gown for a costume. I ran into town and got McCall's pattern 6141, which is really a Renaissance costume, but rather similar in style to the Regency gowns.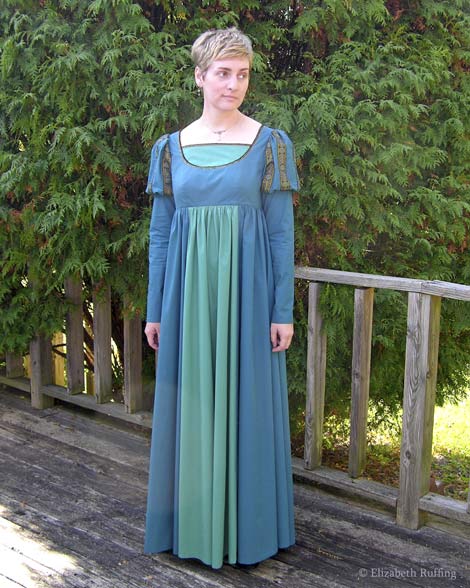 I had recently gathered up a bunch of sheets to use for fabric for other projects, and I grabbed a blue twin sheet set out of the pile, along with a teal sheet for contrast. I spread the sheets, one at a time, out on my carpet and cut out my pattern pieces. I added some trims I got at Hancock Fabrics, to the sleeves and the neckline, and managed to get the whole gown sewn and hemmed by Saturday night, just in time for Jill's party, which was a lot of fun. I got to talk to some great people, and made good friends with Jill's corgi too, who followed me all over the house for in exchange for pets.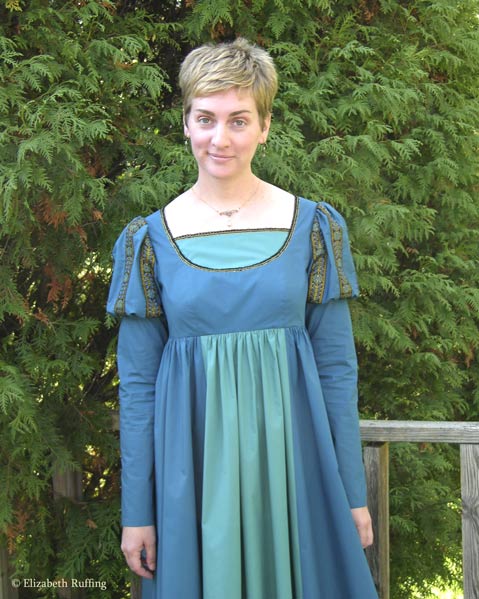 Jill, and a lot of the people who were there volunteer a local cat rescue, fostering cats and kittens. Just a really nice group of good-hearted people. I enjoyed myself very much.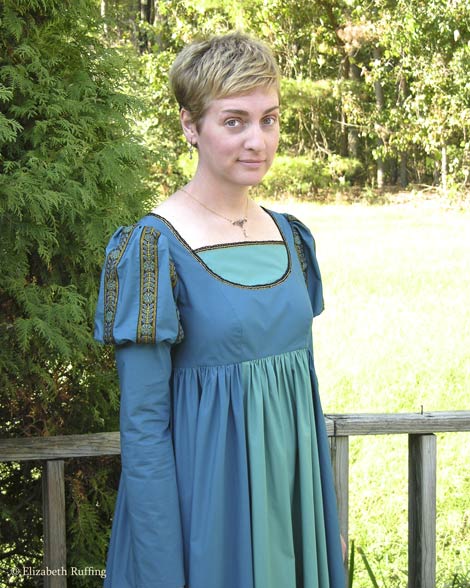 It also did me some good to make something just because. It's hard to give myself permission to make something just for fun, but I think I will have to do that some more. I even did a hand-picked zipper for the first time.
It's funny what makes other things come into perspective. You make a dress, and you realize that you need to give yourself permission to paint a painting too, or take up photography, or make something only you might like, that might never sell or be of interest to anyone else, because those are the projects that come out the best and make you feel good about your abilities.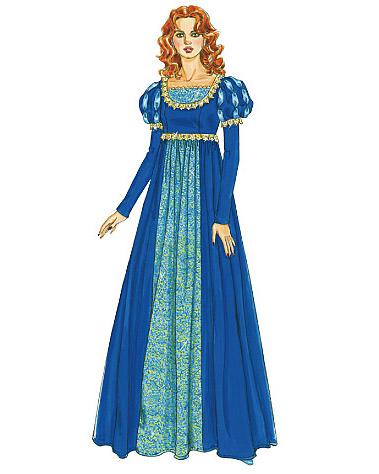 And you meet some nice people, and you realize that when you like someone, you just like a person. There's no trying to like them, or trying to be fair, or trying to look past their bad points. You just like them. Since we moved here, I've been thinking that people are just different here, harder for me to relate to, but that isn't true. I just met the wrong people, dated the wrong people, and didn't like their friends, all for the same reason…they weren't my kind of people. I had a date once, with a psychiatrist, who tried to tell me this, that people are either nice or they aren't. I had been saying that people here seemed harder to get to know, more evasive, more secretive, and he said no. People are either open, or not, honest or not. He told me if I had trouble sorting them out, just call him and ask, because he could tell me right away. I'm realizing more and more, that I do know right away too. I just thought I was in a strange land, when I was really just trying to relate to the wrong people. I'm feeling a lot better about these things lately, where I live, what I do, and who I am.