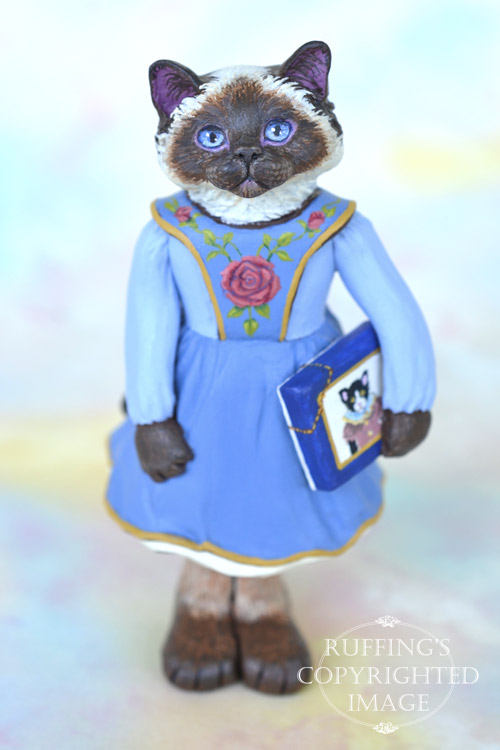 Aunt Helen is a handmade miniature original, one-of-a-kind cat art doll, hand painted and hand sculpted in paperclay by artist Max Bailey.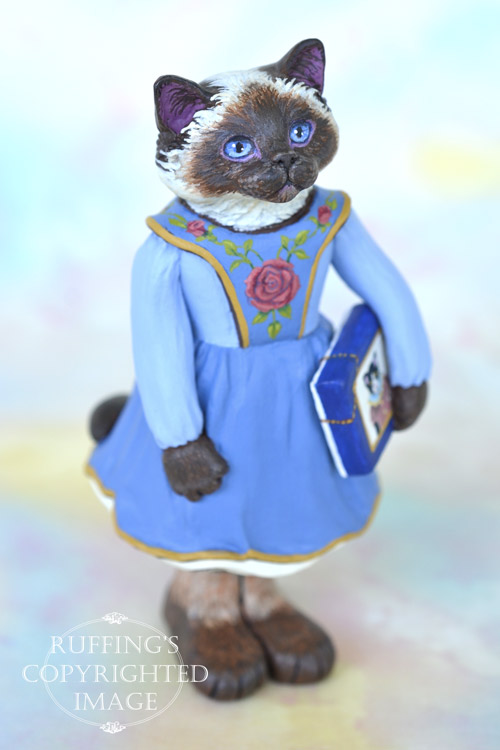 Aunt Helen has a sweet face, and soft blue eyes.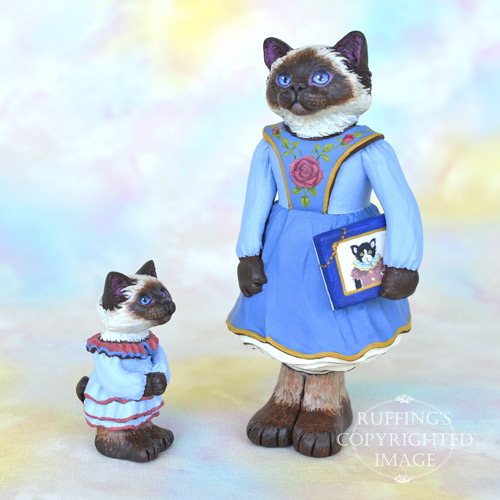 She's a generous, kind-hearted Ragdoll cat, who adores all of her nieces and nephews.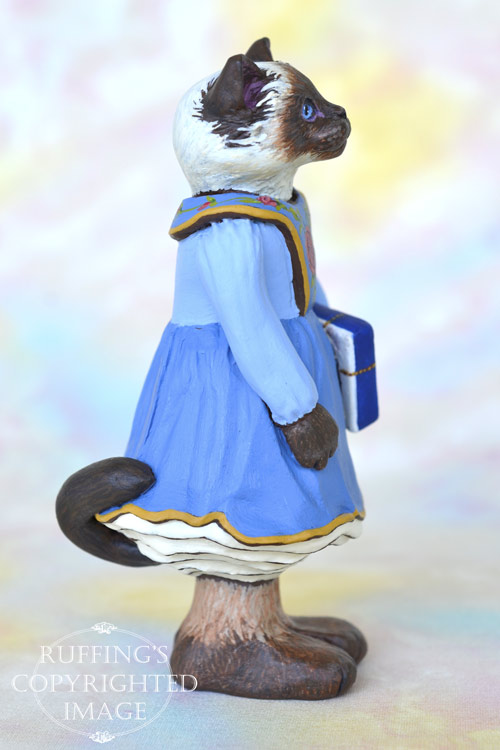 She takes good care of them, making sure they have their favorite foods, nice clothes, and clean faces.
She reads their favorite stories to them, and plays their favorite games. Aunt Helen always lets them win, which is a delight to them all, including Aunt Helen.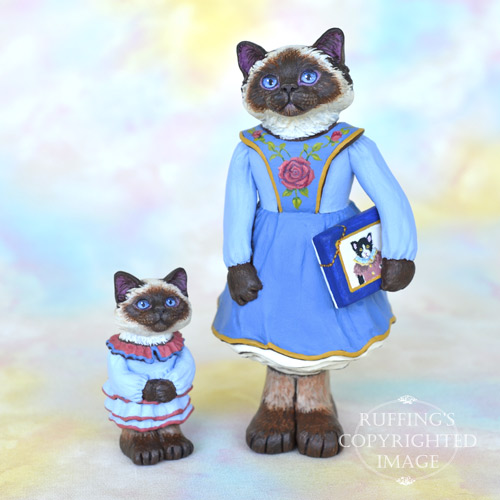 Today Aunt Helen has gone to Miss Kitty's Kreations to buy her little niece a new summer dress.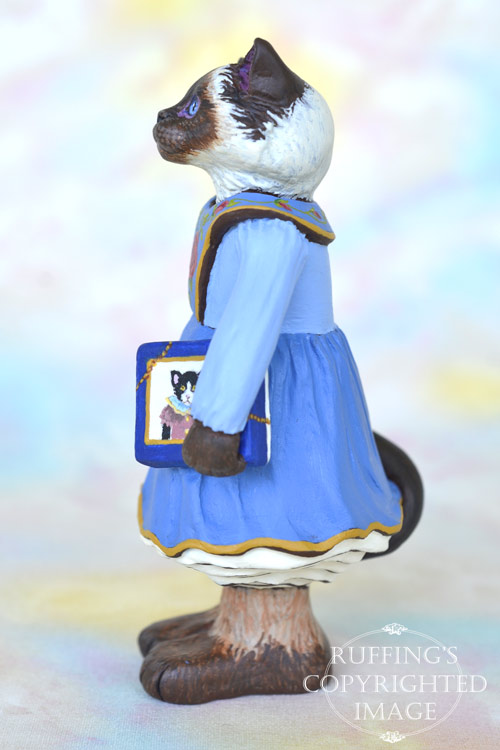 Miss Kitty doesn't spell very well, but she knows how to advertise. She puts a picture of herself right on the front of her gift boxes.
Miss Kitty knows that, since most cats don't drive, her customers are likely to walk home through town, and everyone will see where they went shopping.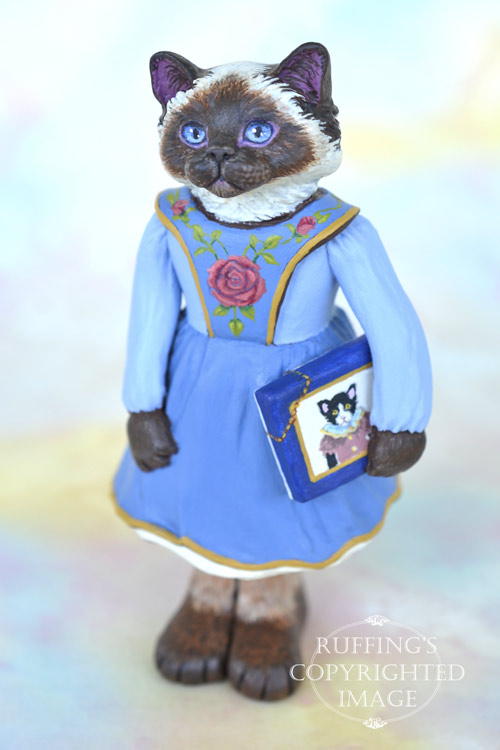 Aunt Helen is wearing a beautiful two-toned blue dress with a gold border that encloses a red rose, rosebuds, and green leaves.
The hem of her skirt also has a gold band, and below that you can see her swirling white petticoats.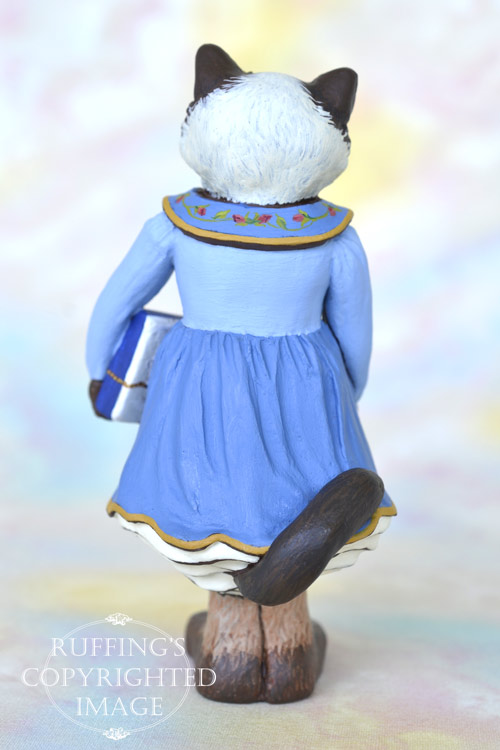 Aunt Helen is 4 and 3/8 inches tall, including her ears. If you are collecting my miniature dollhouse kittens, Aunt Helen is a nice companion for them.
If you have a dollhouse and would like to people your dollhouse with kitties instead of people, on a 1 inch equals 1 foot scale, Aunt Helen would be the size of a small person.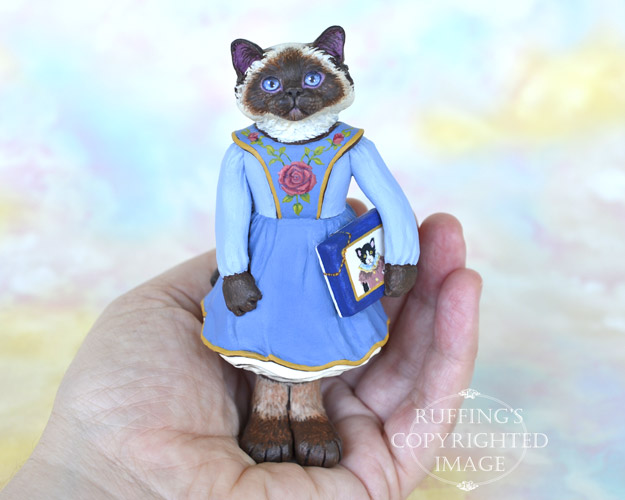 Aunt Helen is a one-of-a-kind work of art, and is meant for display only. She was sculpted from paperclay in multiple stages, to allow for drying and detailing.
Aunt Helen was painted under a magnifying light, with tiny brushes, one hair at a time. She is signed and sealed with matte varnish for protection and preservation, and comes with a certificate of authenticity.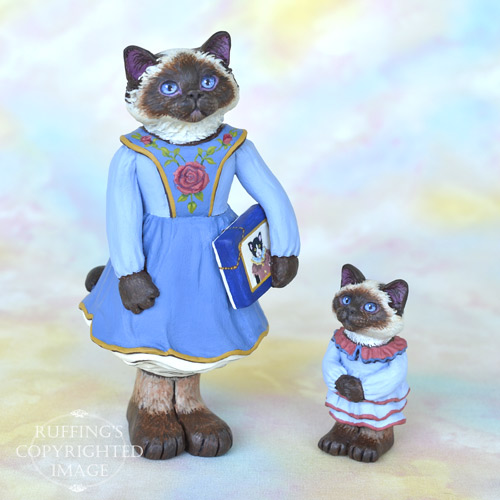 Update: Aunt Helen Has been adopted. Thank you!
Her niece Eileen the Ragdoll kitten can be found here.