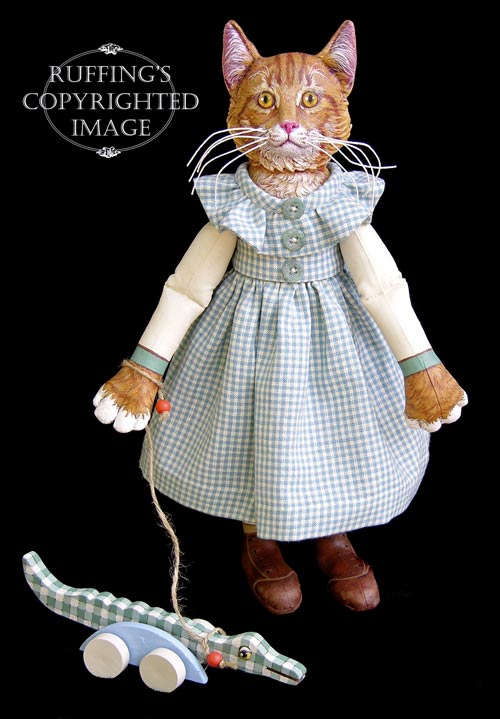 This is Ginger. Ginger is an orange and white tabby, and she's a country cat. On summer nights, Ginger loves to sit on the porch in her wicker chair and listen to the crickets and the katydids.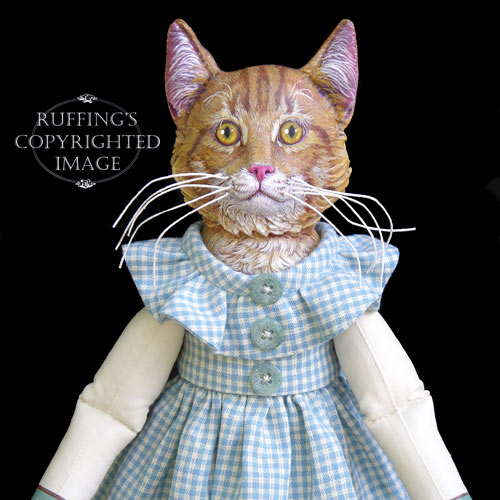 On pleasant fall days, she loves to walk through the dried leaves and hear them crunch and crackle under her shoes.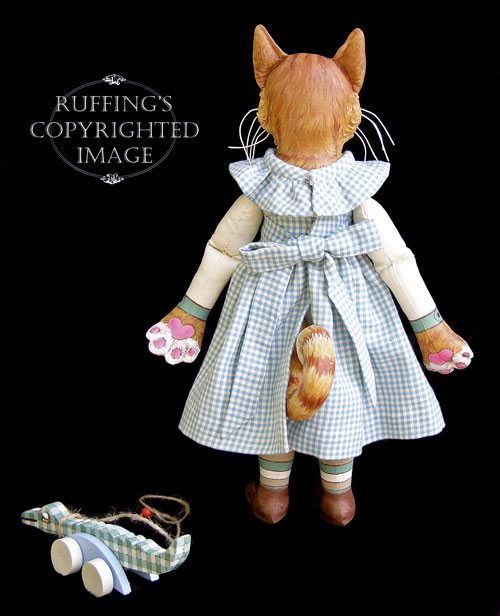 Ginger loves gingham dresses, especially this one, with its ruffling ruffle and long sash that she ties in a pretty bow in the back.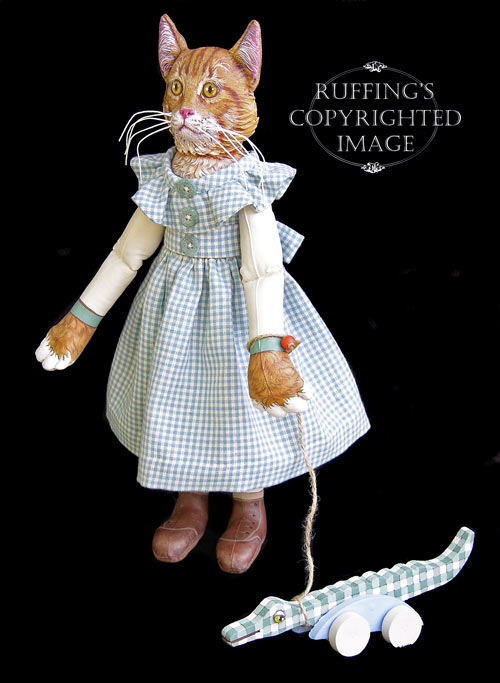 She also loves George, her gingham alligator. When she takes George out for a walk, all the chickens go clucking and running to the other side of the barnyard. She thinks maybe that's because they don't like the clatter George's wooden wheels make as they roll over the pebbles by the back door.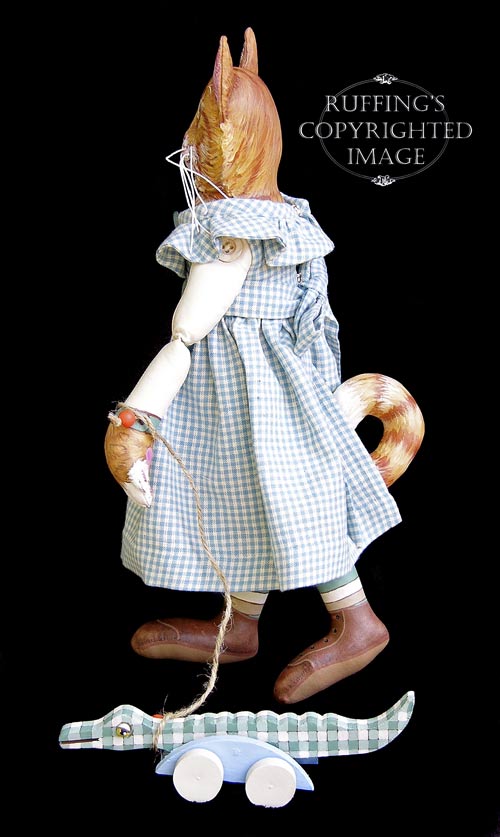 Ginger is an original one-of-a-kind work of art, created from my own design and pattern. She is made from 100% cotton fabric which is sewn, stuffed, and completely hand painted with acrylic paints. She is 13 inches tall.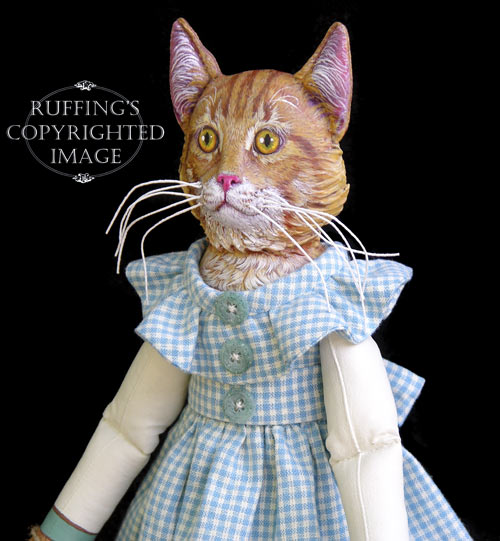 I sculpted Ginger's face from paperclay, which I smoothed into her fabric head. Her pearl cotton whiskers were threaded through the paperclay before it dried. I made her gingham dress from 100% cotton fabric, from my own design and pattern.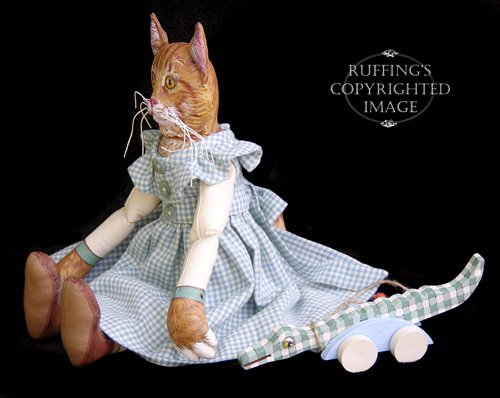 Ginger is very accommodating. Her curly white-tipped tail supports her very well, so she will sit very prettily all by herself on a shelf or a table, or in a cabinet. She will also happily sit in a chair, or stand with a doll stand. (Doll stand not included.) Her arms are button-jointed.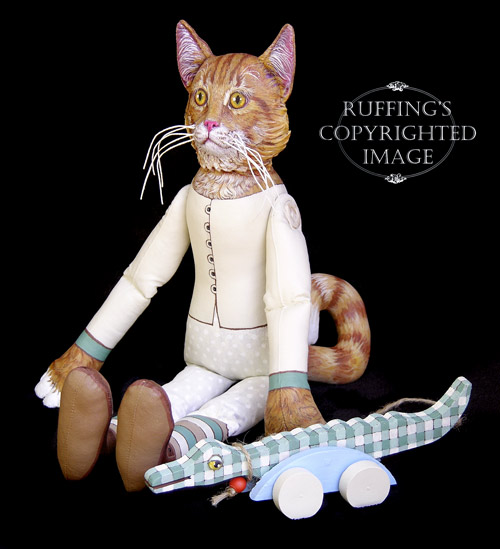 Ginger's white on white polka dot bloomers are painted on, as are her striped tights, and the high-button scuffed up shoes that cover her kitty feet.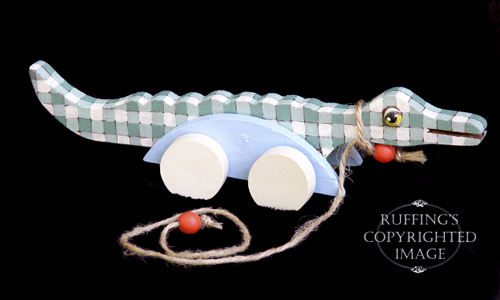 George is made of wood. I painted him with my best version of green and white gingham, and gave him droopy eyelids and sleepy yellow eyes. He's about 7 inches long and about 2 inches wide.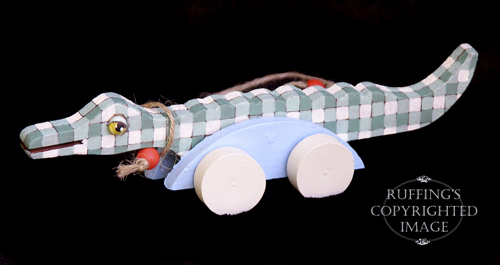 Ginger is signed and dated, and sealed with matte varnish for protection and preservation. Ginger and George are original works of art and are meant for display only.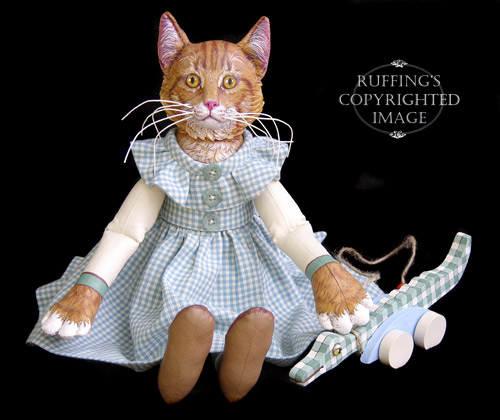 Update: Ginger and George have already been adopted. Thank you!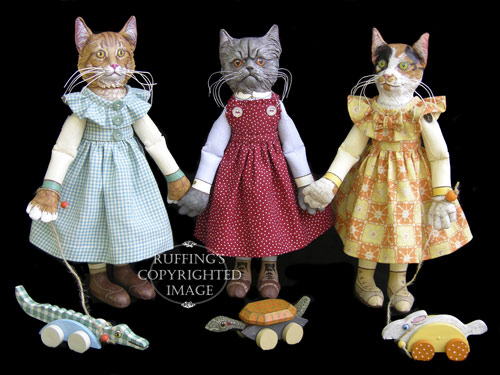 Ginger and George's friends are Crabby Alice and Ruthie (above center) and Hedda and Hopper (above right).