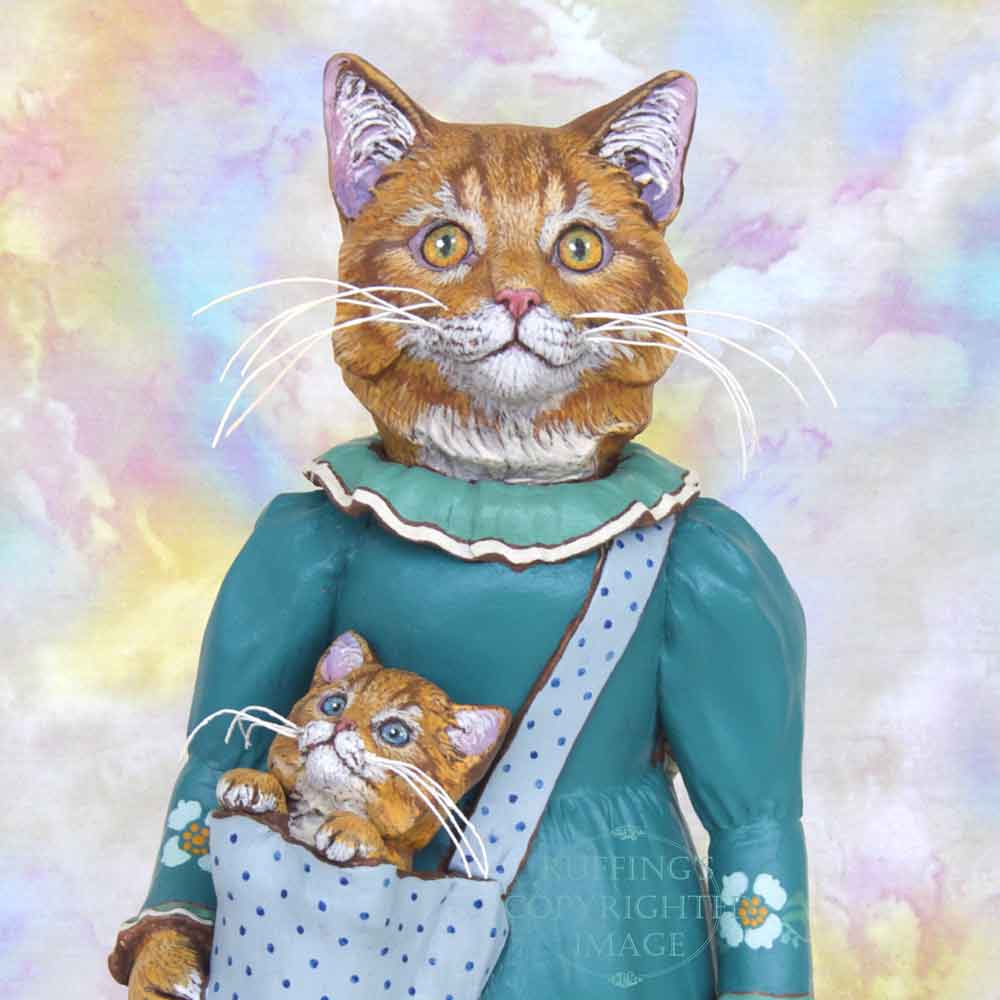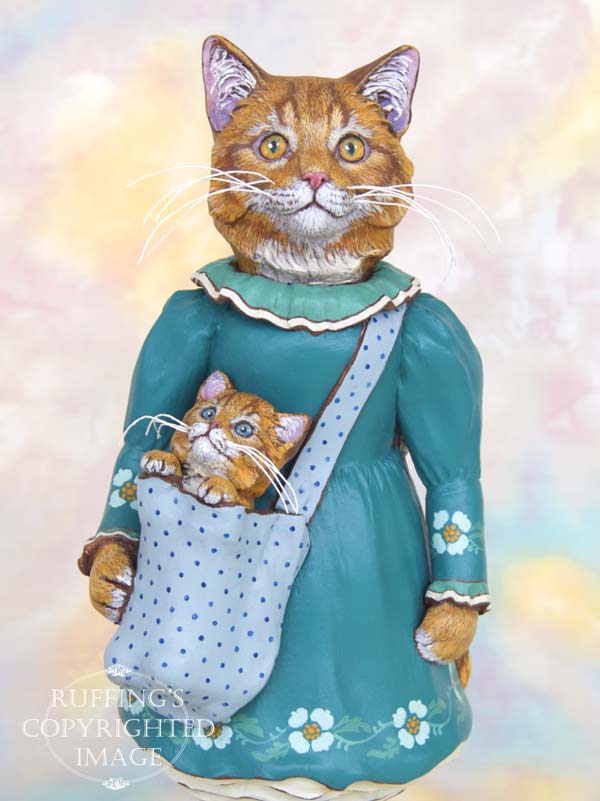 "Catherine and Chester" is a handmade original, one-of-a-kind anthropomorphic cat art doll figurine, hand painted and hand sculpted in paperclay by artist Max Bailey.
Catherine is an orange tabby Maine Coon cat, who looks a bit bewildered by motherhood.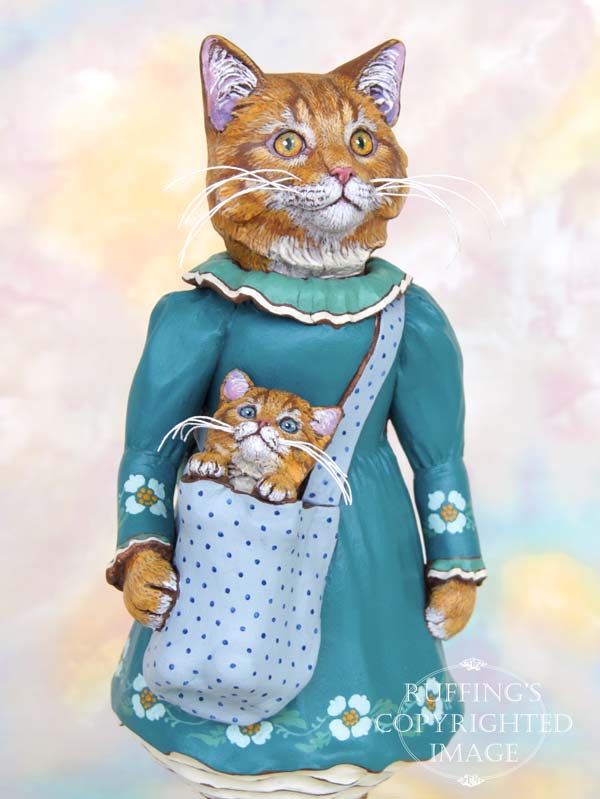 Catherine knows she needs at least one extra set of paws to keep up with her kitten. Little Chester seems to go in nine different directions all at once.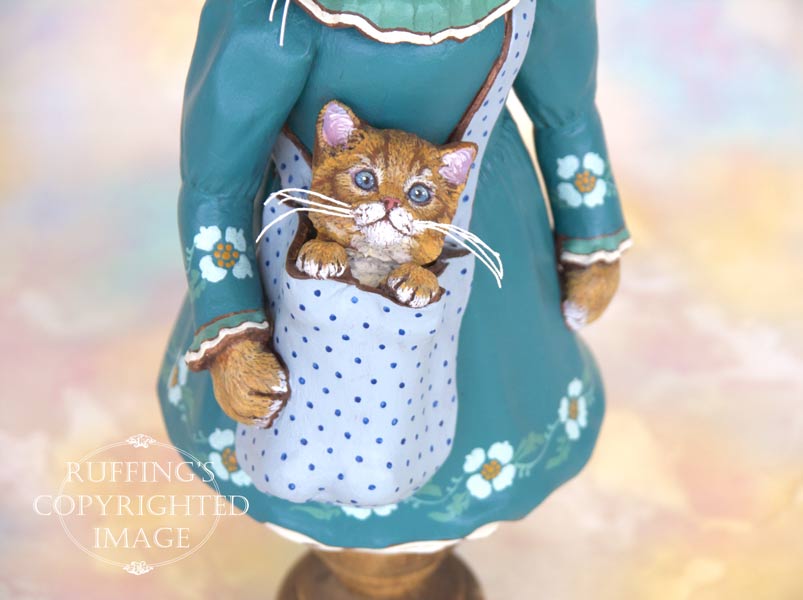 Catherine made a kitty bag for Chester, a blue polka dot one with a long strap that goes around her neck. Still, she has to keep one paw on the bag.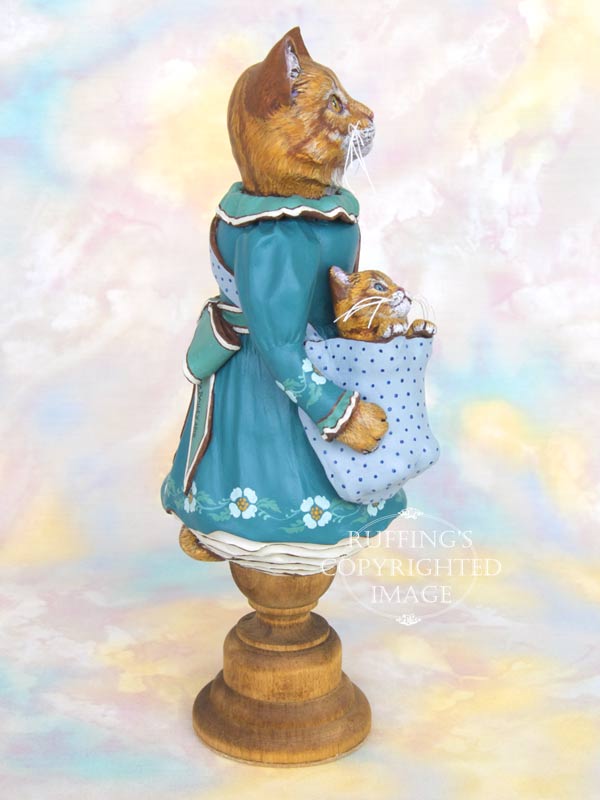 Chester is so enthusiastic, he wiggles and mews at everyone and everything he sees.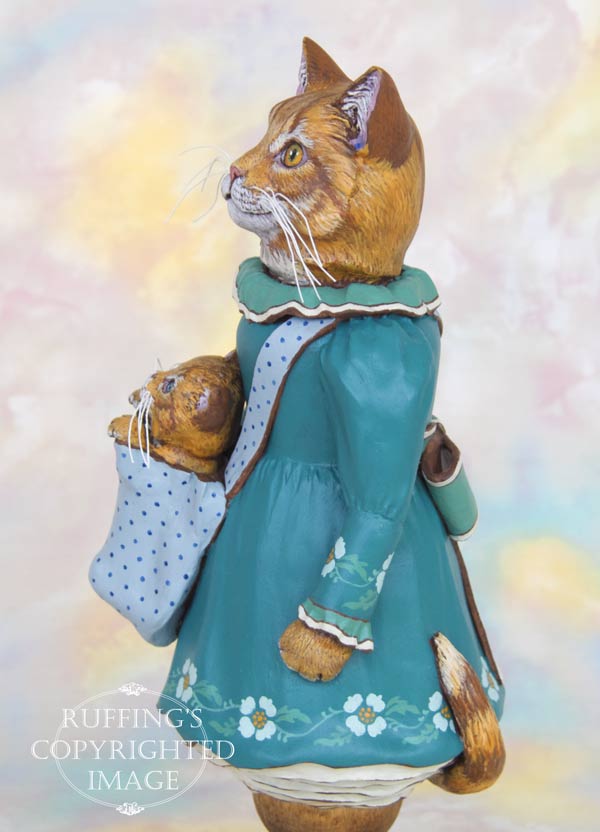 "Mama, why do I have to stay in my kitty bag while we're traveling?" Chester asks.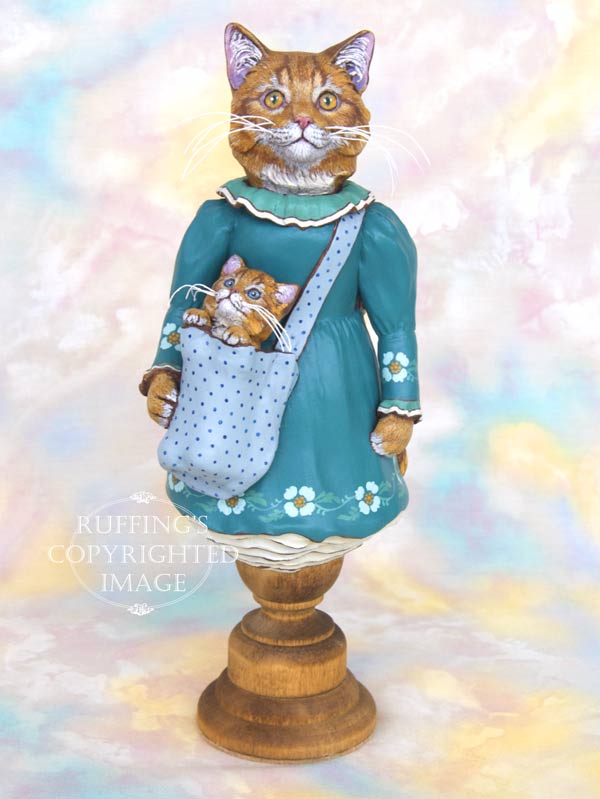 Catherine answers, "So I can see the top of your pretty little head." When he asks again, she says, "So I can count your little white whiskers to make sure none of them are missing."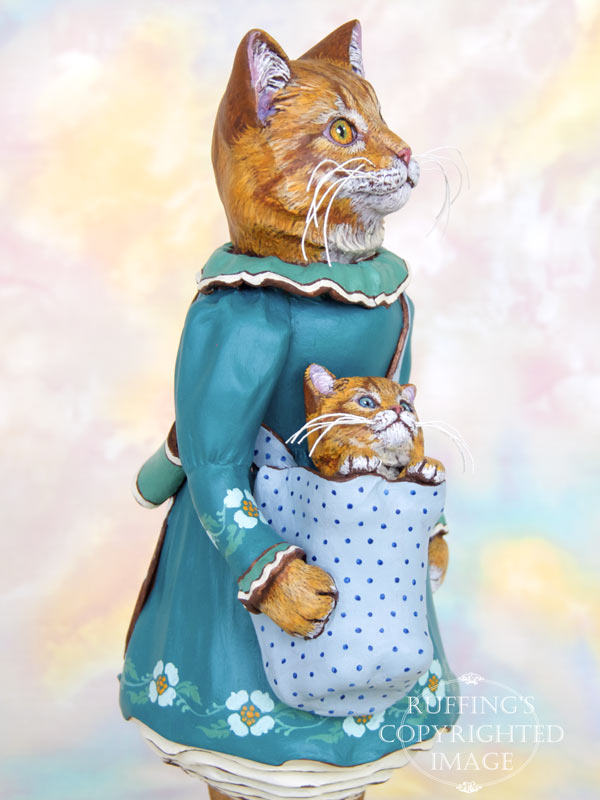 Catherine takes Chester to the park. She takes him shopping. She takes him visiting. And, at the end of the day, she takes him home.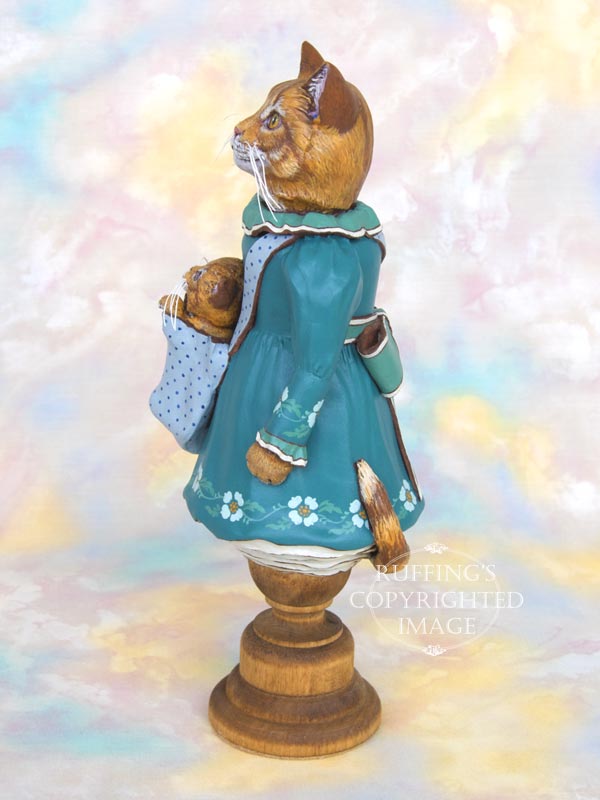 When he yawns, she puts him to bed, and Chester always says, "Good night, Mama. I had fun today."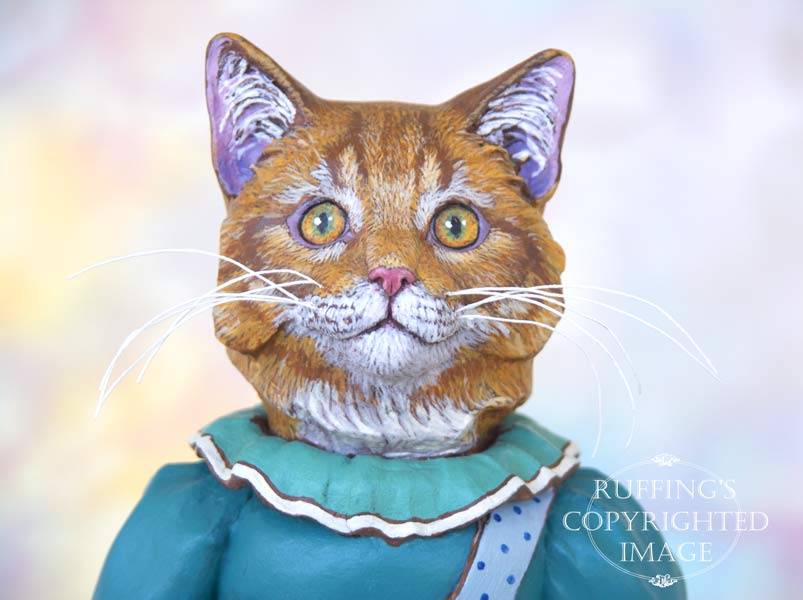 "Me too." Catherine answers. She sighs happily, and falls asleep in her chair.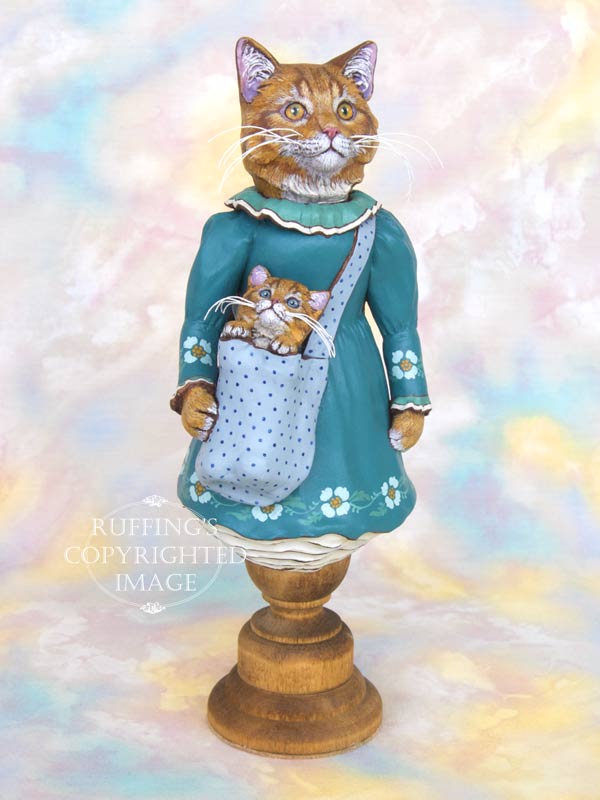 "Catherine and Chester" is an original one-of-a-kind work of art, meant for display only. No molds are ever used in my work. Catherine, Chester, and Chester's kitty bag are hand-sculpted from paperclay, and are entirely hand-painted with acrylic paints.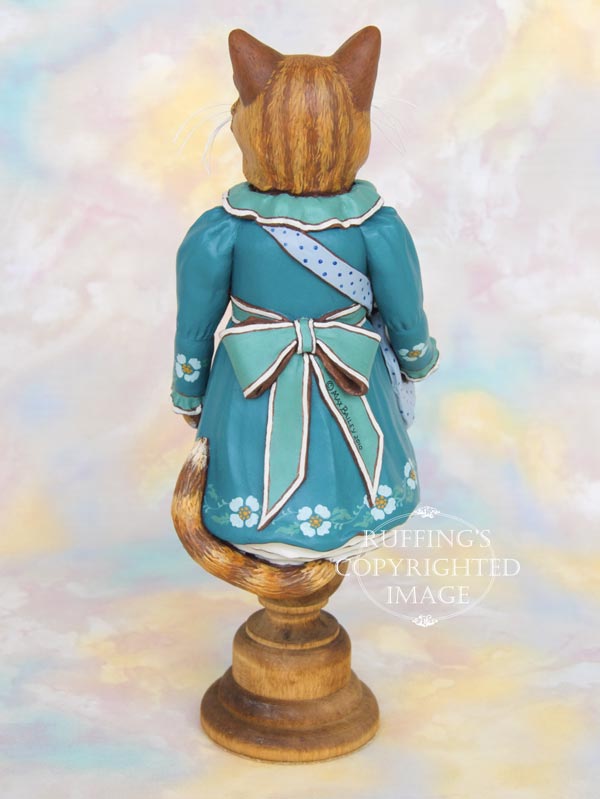 Catherine wears a river blue dress with a jade green collar, cuffs, and sash tied in a big bow at the back. Pale blue flowers with jade green leaves decorate the sleeves and flow around the bottom of the skirt. Her striped orange tail emerges from her white petticoats. Catherine and Chester have whiskers made from stiffened cotton thread.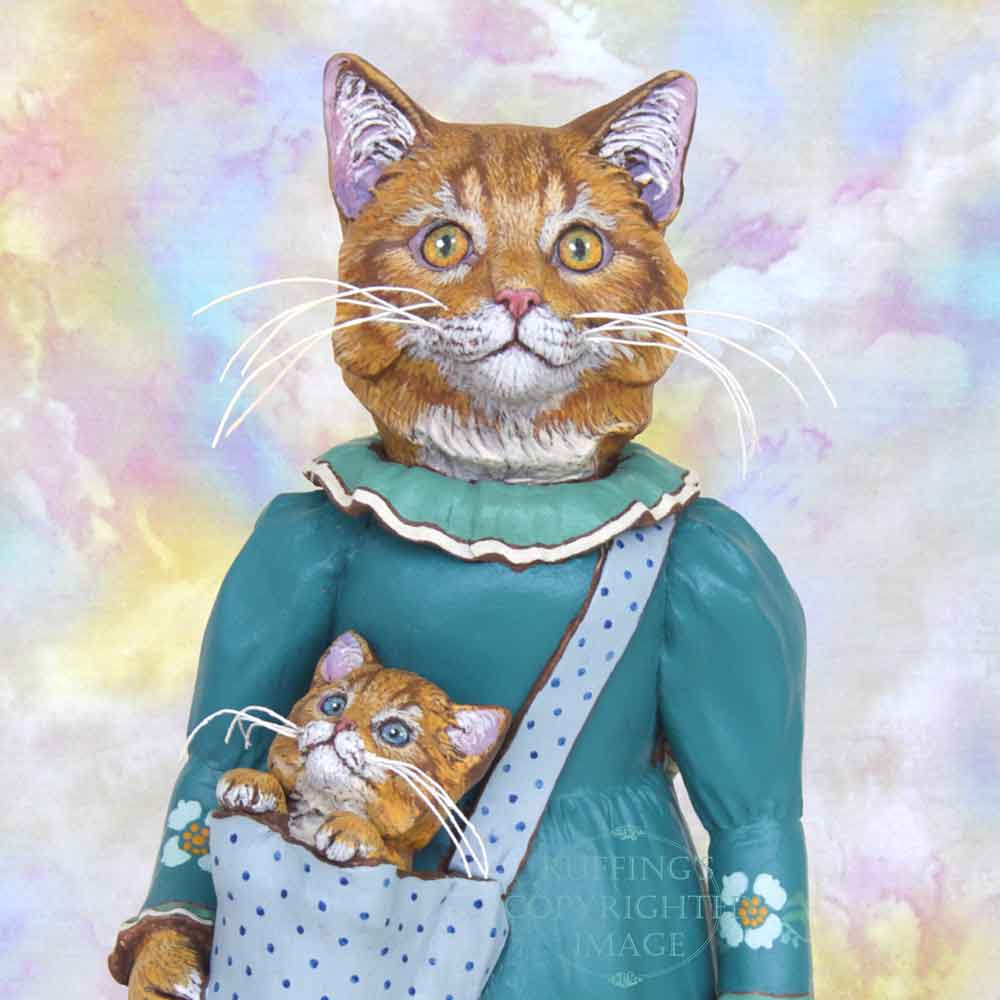 Catherine is signed and dated, and sealed with matte varnish for protection and preservation. She rests firmly on a turned wooden base that is stained and sealed in golden oak.
Catherine is 9 and 1/4 inches tall. "Catherine and Chester" comes with a certificate of authenticity.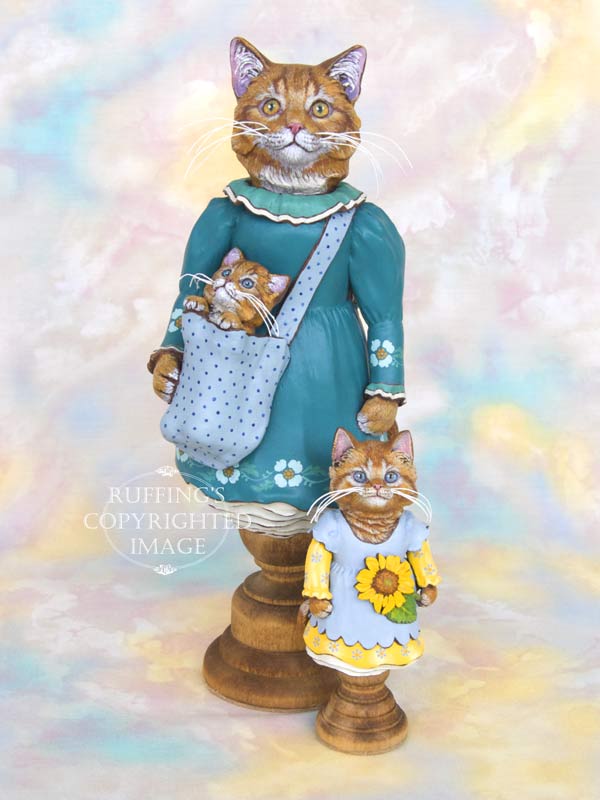 "Catherine and Chester" the original one-of-a-kind Maine Coon cat art doll figurine is available for $425.00, with free Priority Mail, insured, shipping within the United States. Please inquire to [email protected]
Chester's big sister is Sunflower the Ginger Tabby Kitten, original one-of-a-kind cat art doll figurine.
We can be found on social media here: Facebook, Instagram, and Pinterest.
Please click here to visit Catherine and Chester's adoption page.