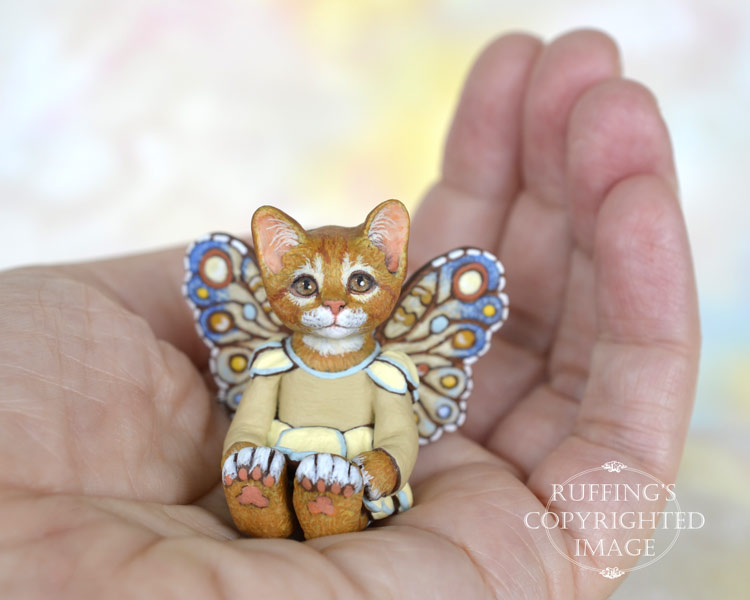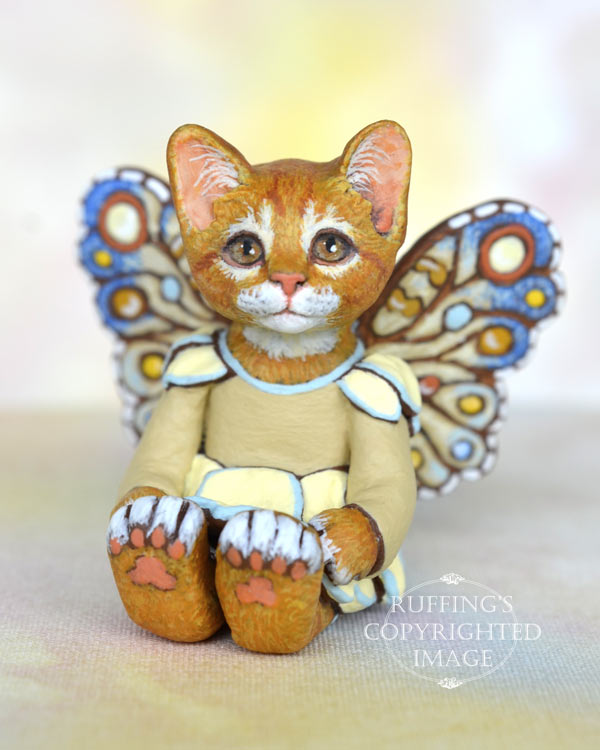 Lotus is a handmade miniature original, one-of-a-kind cat art doll, hand painted and hand sculpted in paperclay by artist Max Bailey.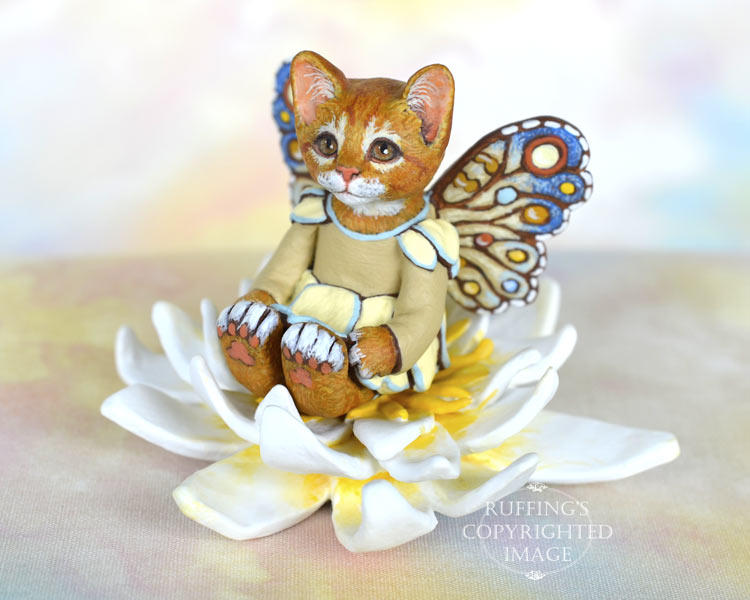 Lotus is a ginger tabby fairy kitten who is seldom seen, but is always busy tending to the flowers from June to September, when she is most needed.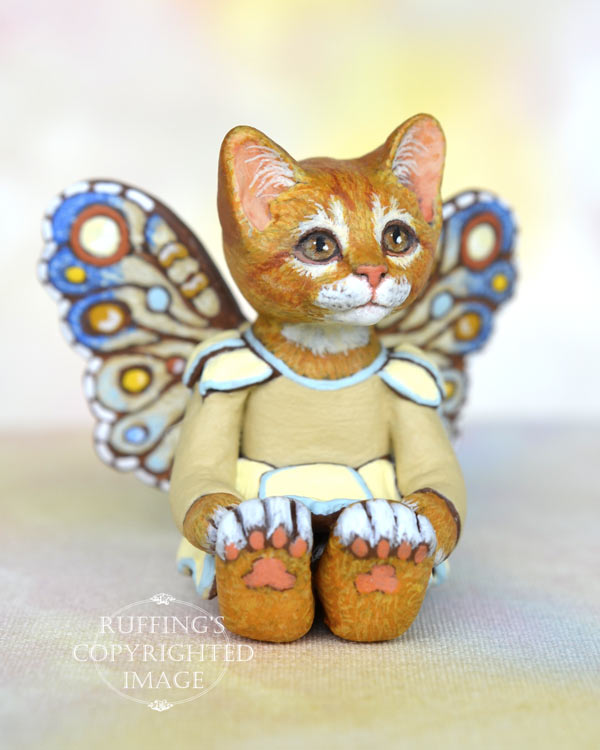 Early in the morning, down on the pond, Lotus glides in on the breeze and gently lands on a fragrant water lily.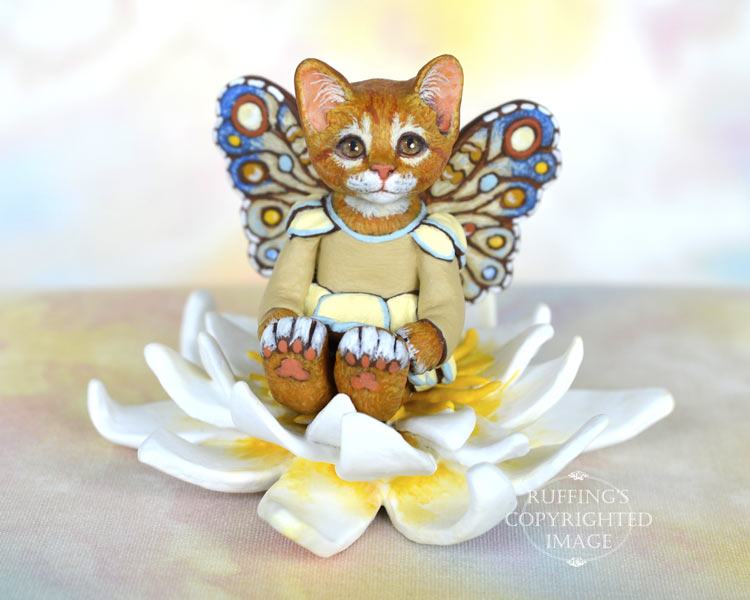 Lotus is a flower fairy, so she has a deep affection for all of the flowers, but water lilies are her favorites.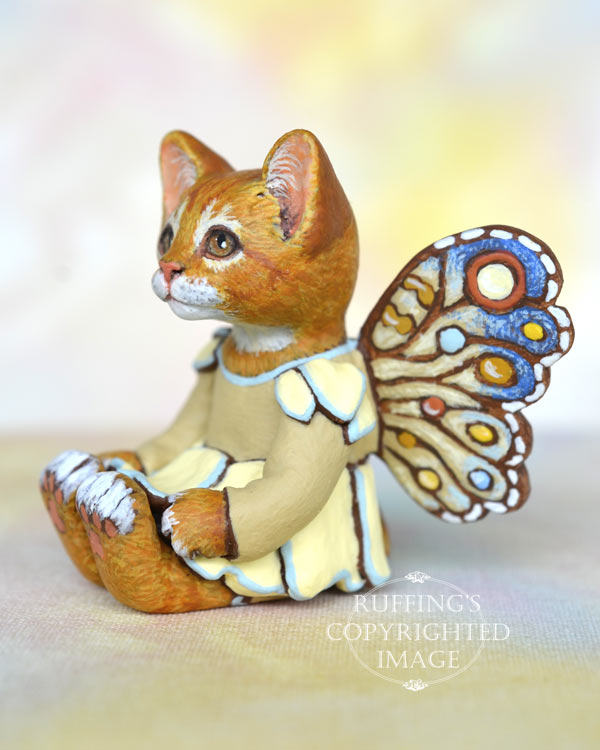 She can rest on their lovely white petals in the shade of the trees overhanging the pond, and inhale their sweet smell.
Occasionally, she dips her paw into the water to make little ripples that are fascinating to watch.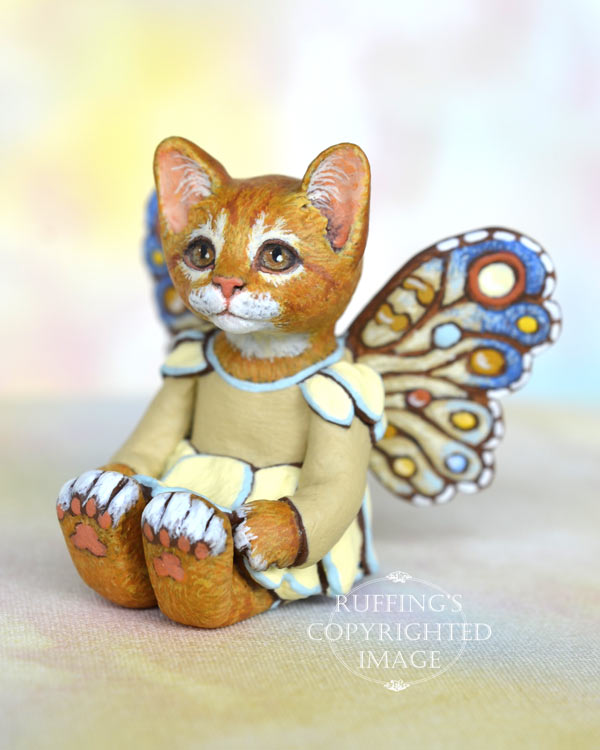 Lotus is wearing a very pretty dress from her flower fairy wardrobe. It has a golden-beige top and sleeves.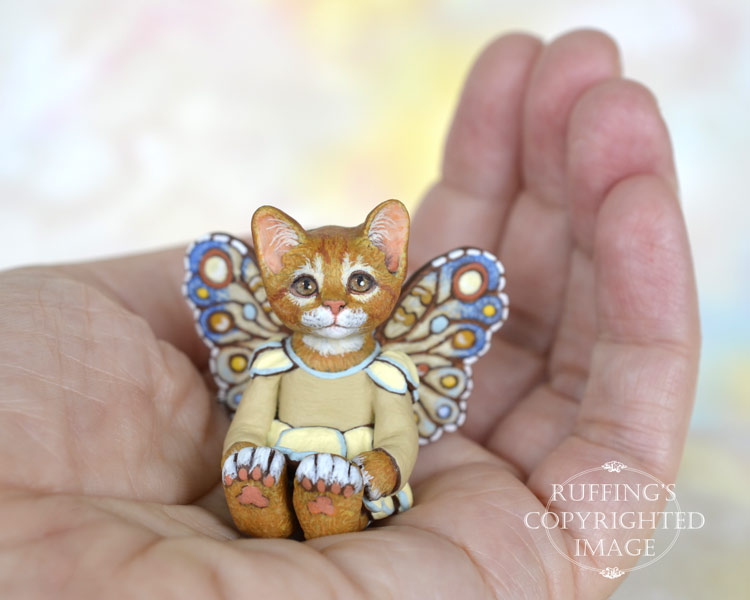 The sleeves are capped with small, pale yellow flower petals edged in blue, and the skirt is made from larger petals, also edged in blue.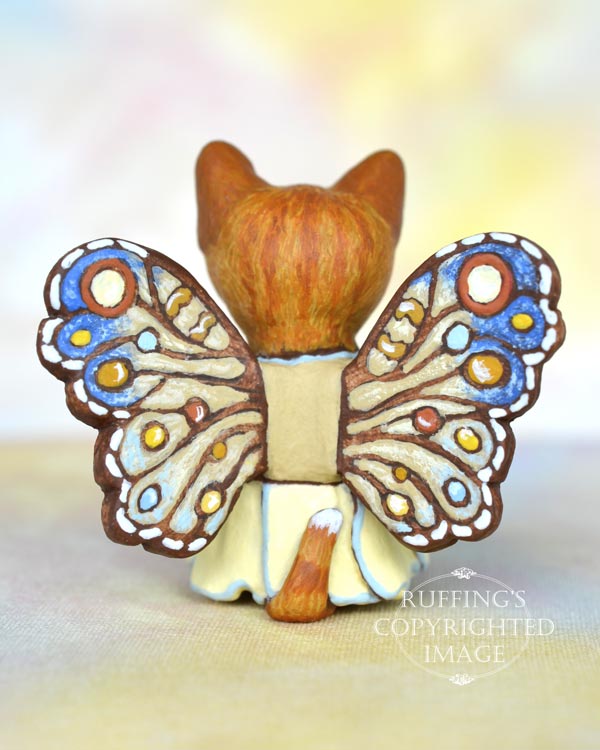 Lotus has magical wings whose colors flow from soft gold out to vibrant blue at the tips. They are accented with shapes of pale yellow, gold, red-orange, and blue.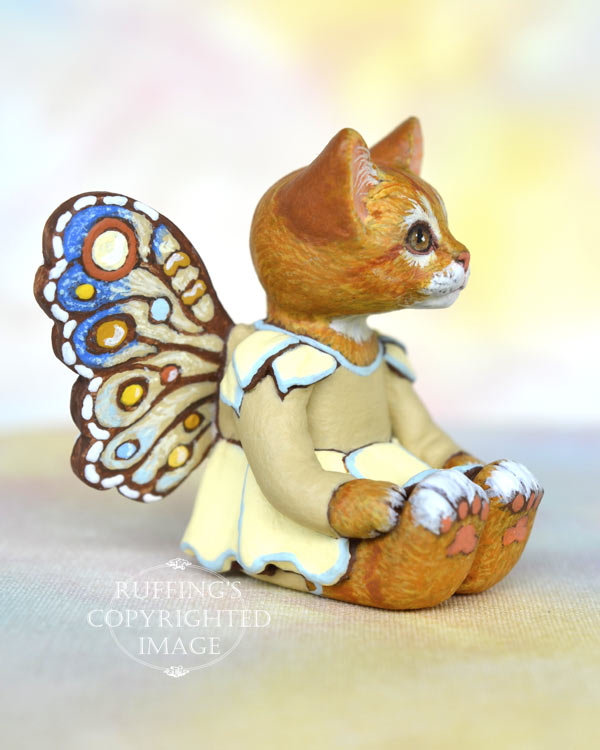 Lotus sits prettily on her water lily, and like Lotus, it is a one-of-a-kind work of art designed and sculpted in paperclay, painted and varnished, and signed Max Bailey.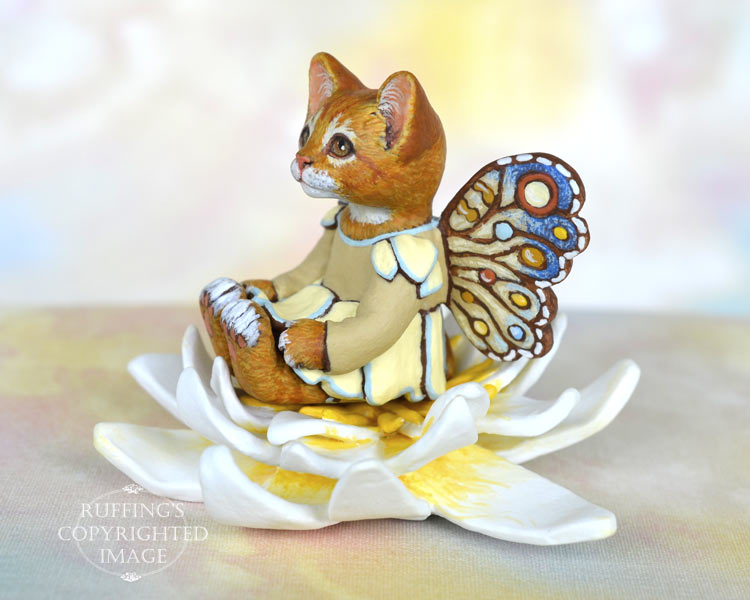 Lotus is a one-of-a-kind work of art, and is meant for display only. She was sculpted from paperclay in multiple stages, to allow for drying and detailing.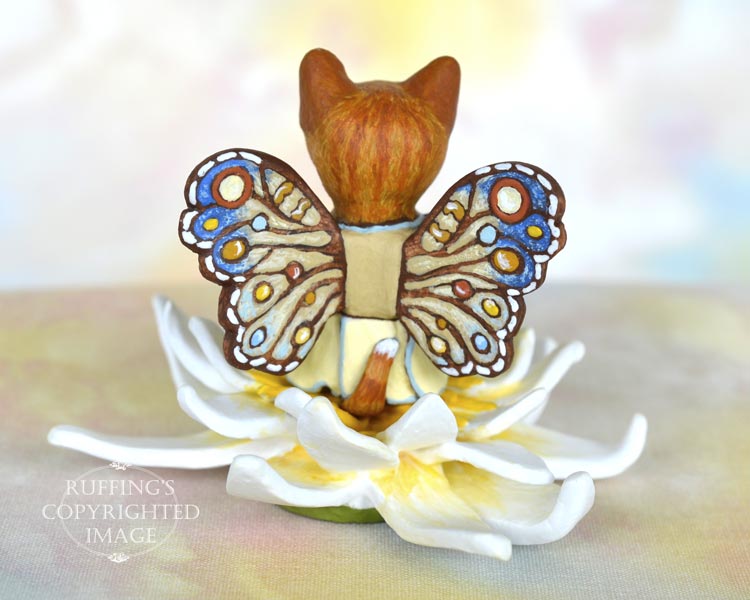 Lotus was painted under a magnifying light, with tiny brushes, one hair at a time. She is signed and sealed with matte varnish for protection and preservation, and comes with a certificate of authenticity.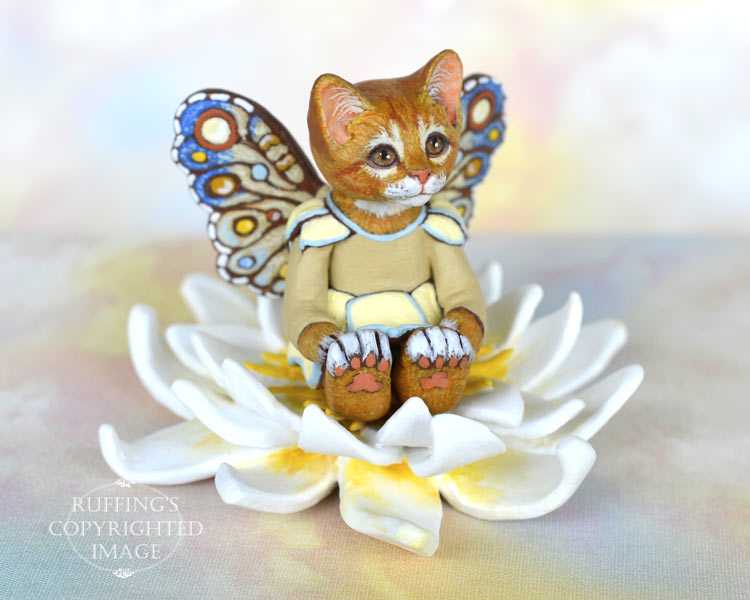 Lotus is 1:12 scale. (One inch equals one foot.) She is 1 and 1/2 inches tall. Her water lily is about 3 inches wide.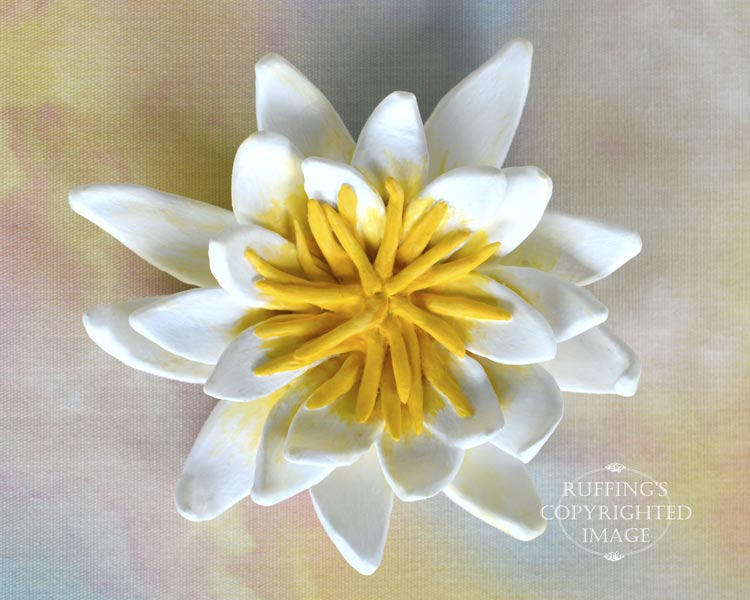 Update: Lotus has been adopted. Thank you!