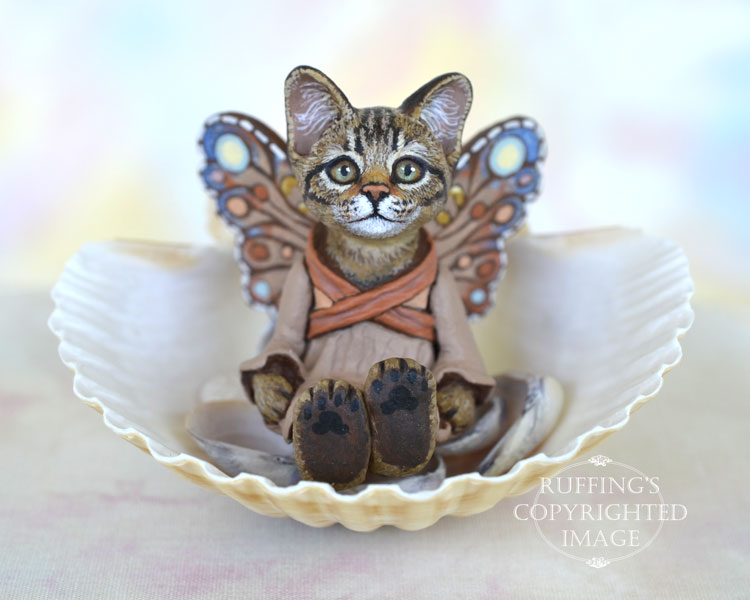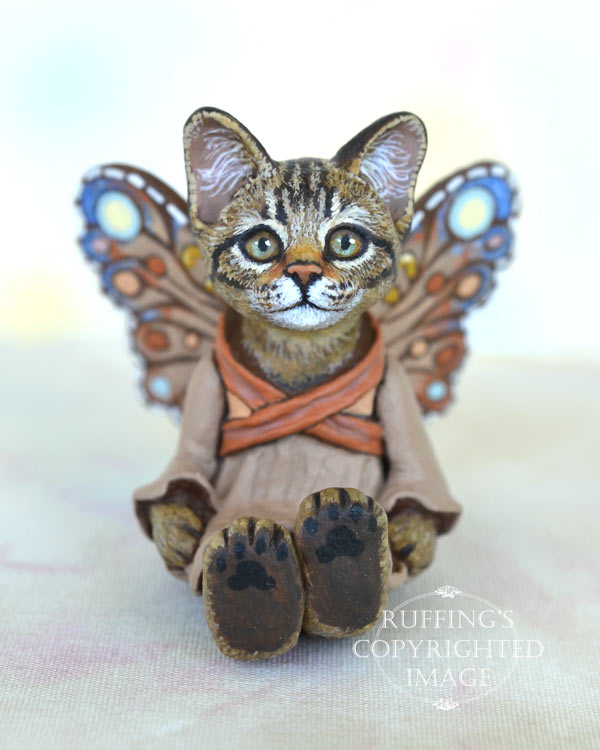 Dharva is a handmade miniature original, one-of-a-kind cat art doll, hand painted and hand sculpted in paperclay by artist Max Bailey.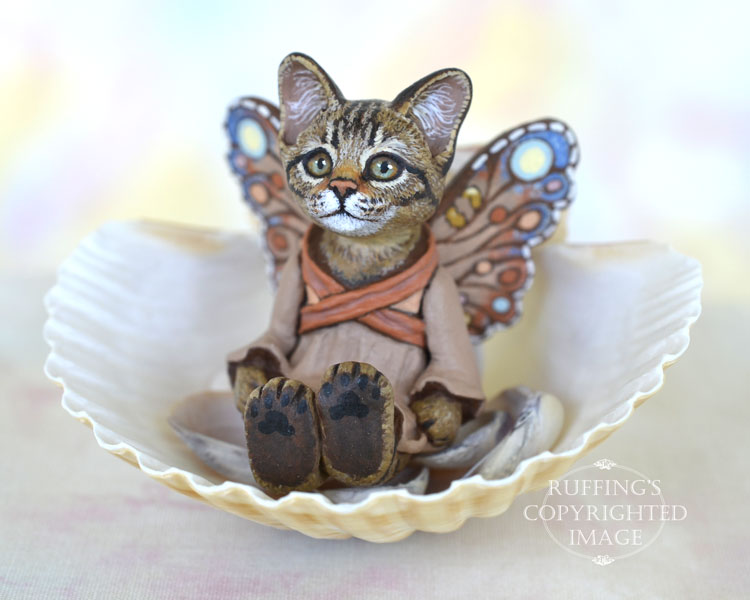 Dharva is a tabby fairy kitten with soft golden-green eyes who sits on the beach every evening.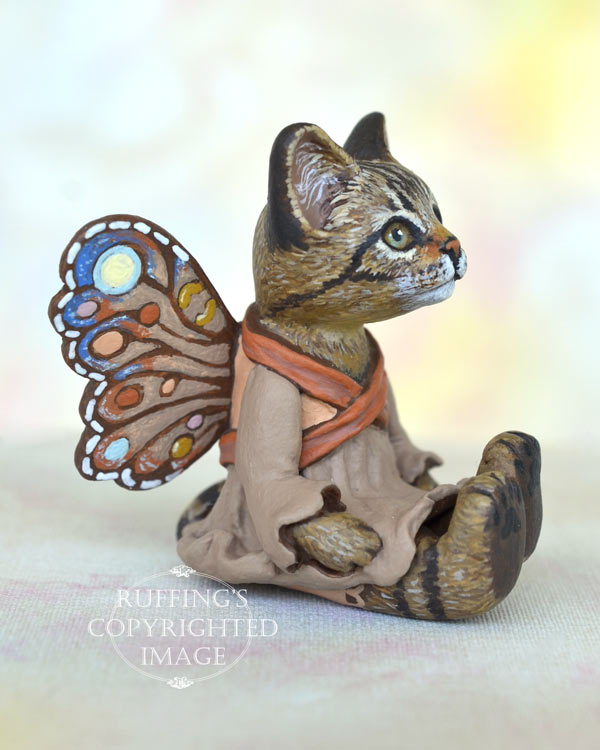 As the sun goes down, Dharva flies over the sand, and collects tiny shells that she especially likes. She puts them in her favorite big shell where she rests, and watches the waves roll onto the shore, then gently return to the ocean.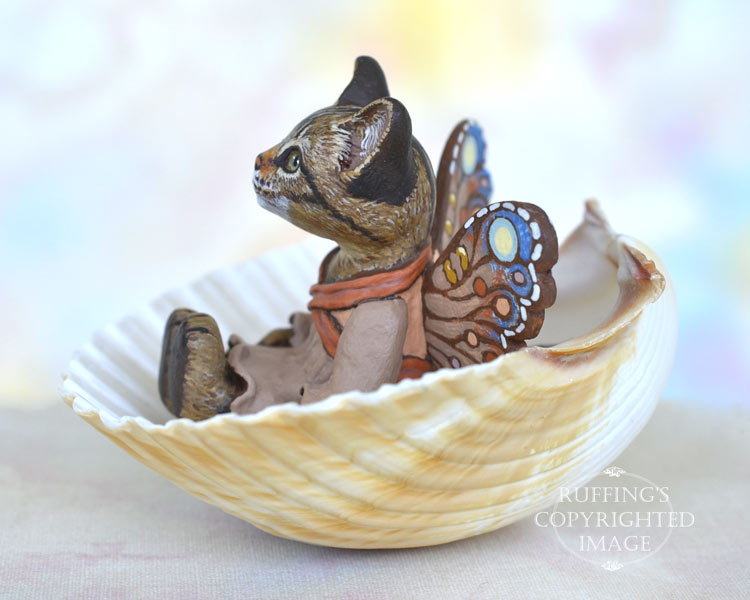 Dharva knows all of the sea creatures, and they all know her. She waves to her friends the mermaids, and calls to them by name. As she dozes off, Dharva thinks she might like to be a mermaid, and swim in the sea, but decides against it.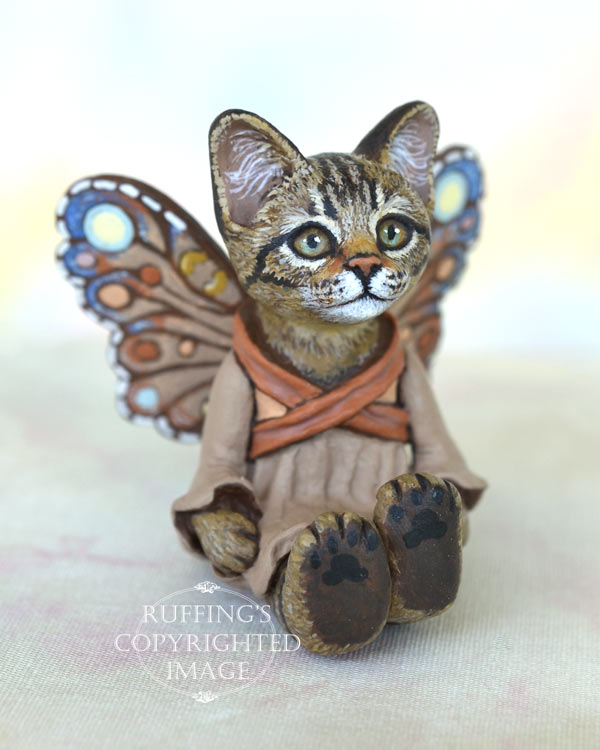 She isn't fond of getting wet, or even of getting sand on her wings, or between her toes.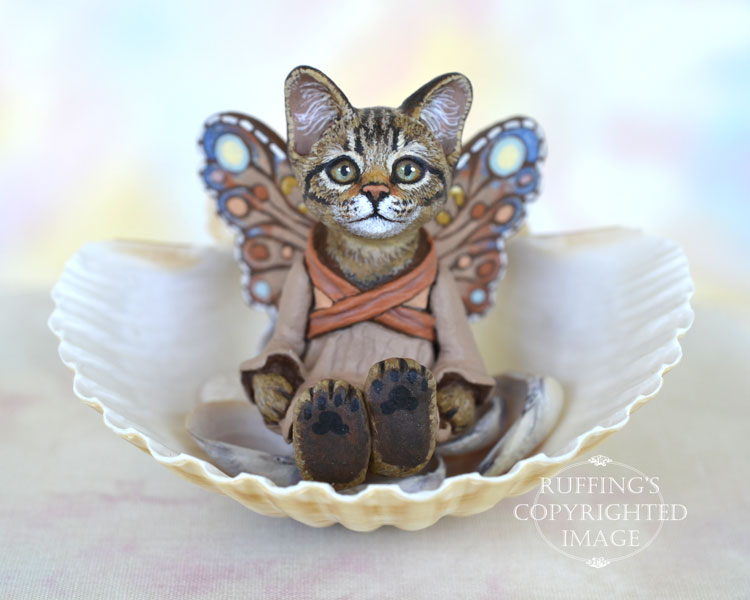 Dharva's flowing dress is pale chocolate, with a burnt-orange sash that crosses in the front and continues around the neckline and the waistline.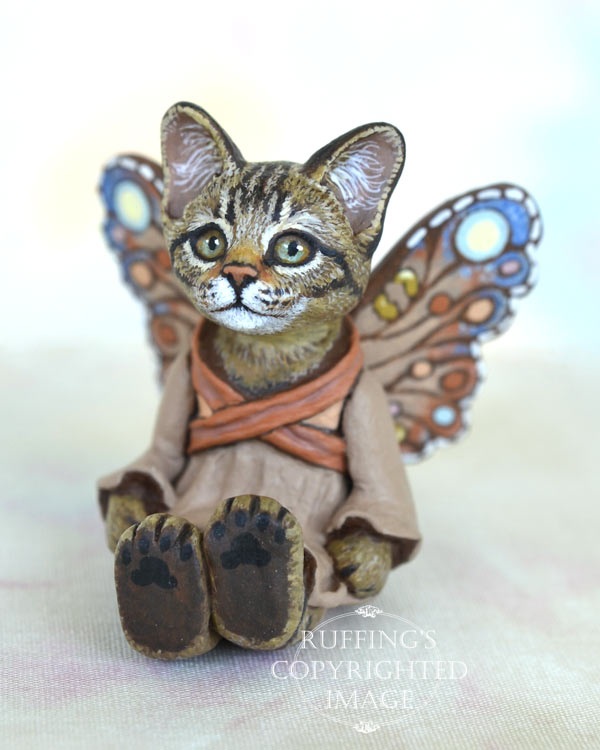 Her fairy wings are sculpted in paperclay, just like herself.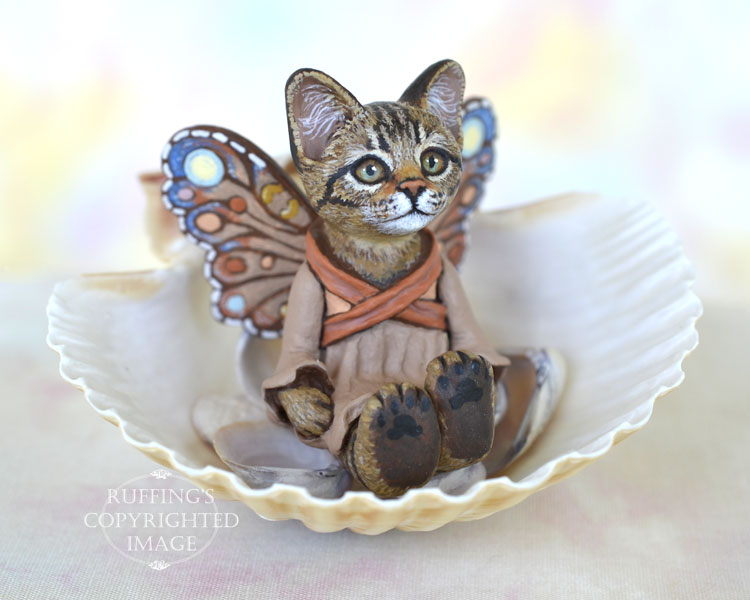 They are painted in light chocolate, with blue and orange at the tips, and with circles of gold, pale yellow, orange, orchid, and blue.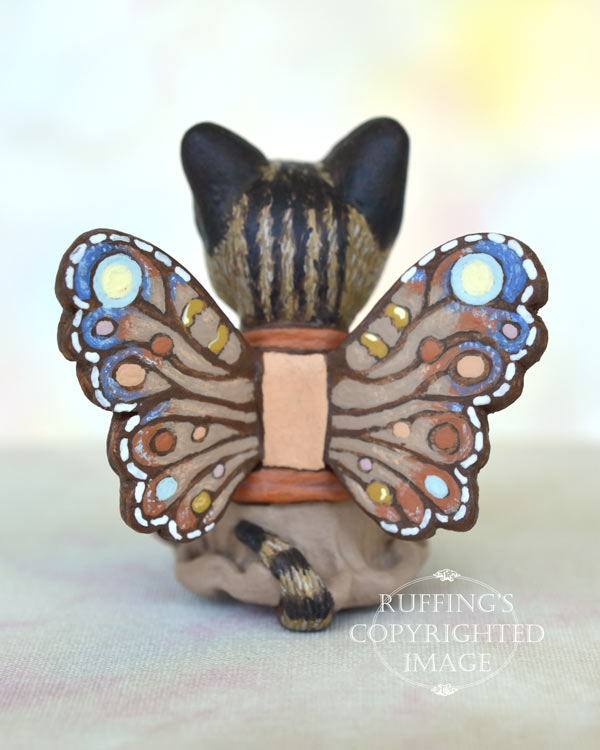 Dharva is a one-of-a-kind work of art, and is meant for display only. She was sculpted from paperclay in multiple stages, to allow for drying and detailing.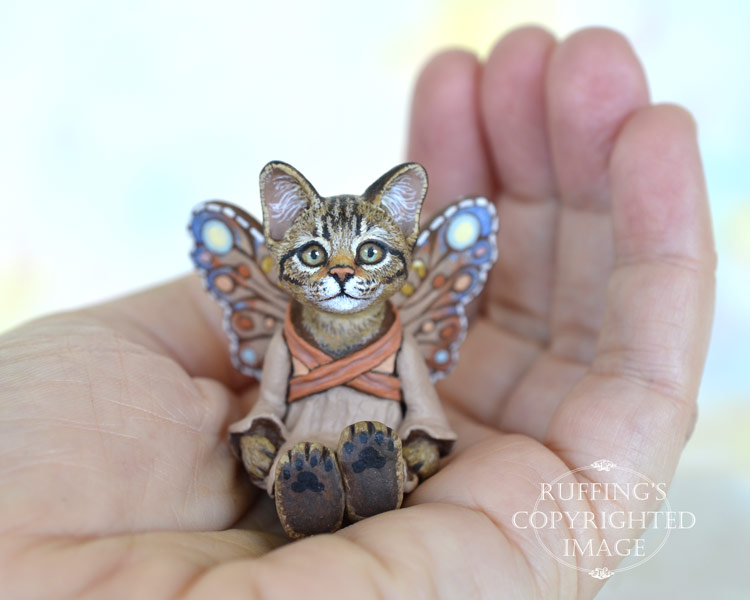 Dharva was painted under a magnifying light, with tiny brushes, one hair at a time. She is signed and sealed with matte varnish for protection and preservation, and comes with a certificate of authenticity.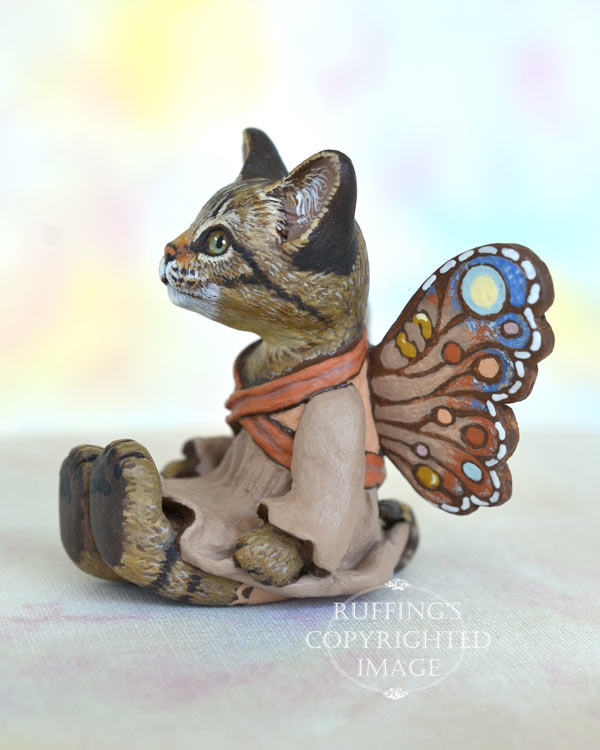 Dharva is 1:12 scale. (One inch equals one foot.) She is 1 and 1/2 inches tall. Her shell is 3 inches wide.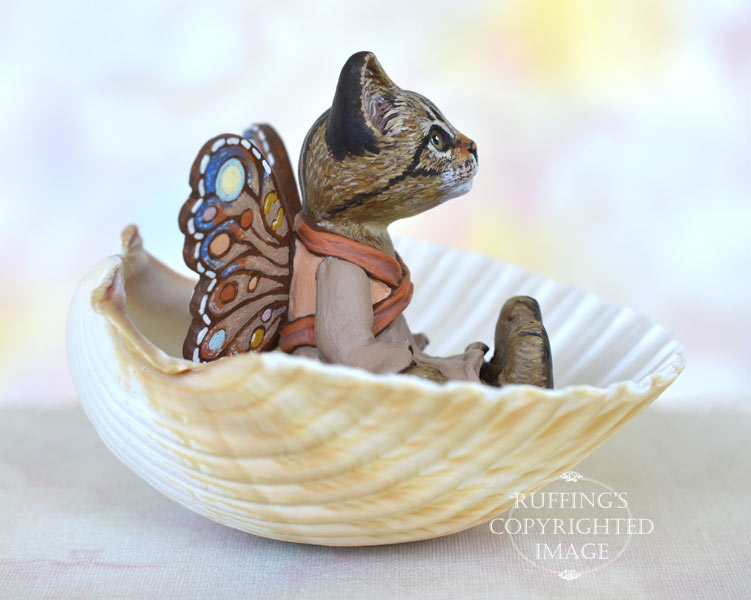 Update: Dharva has been adopted. Thank you!