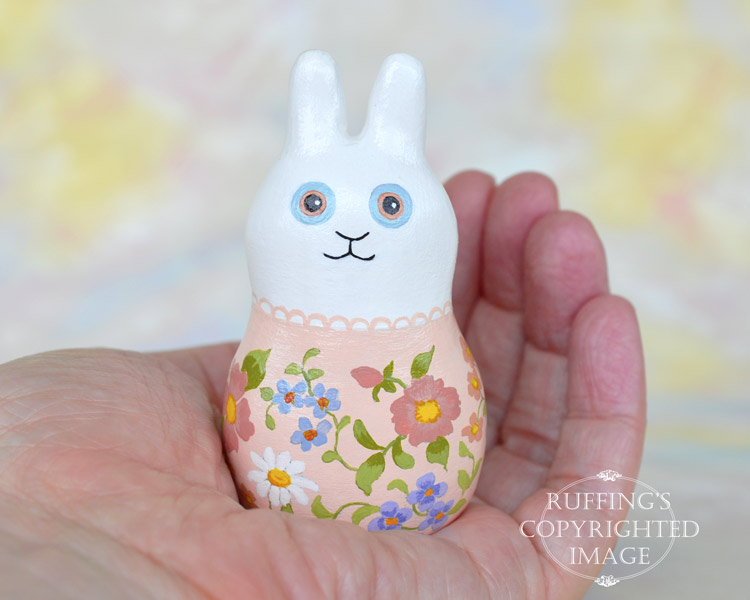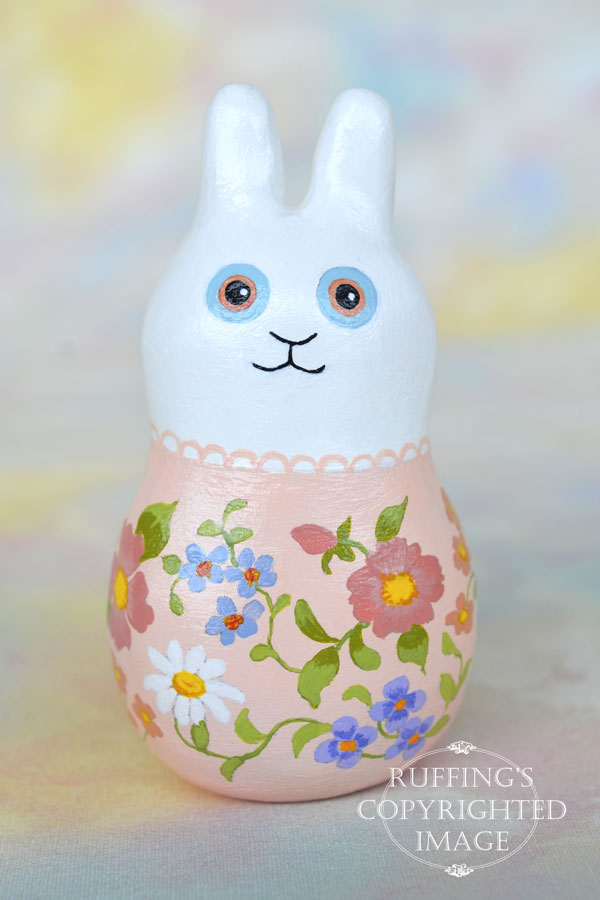 Jeanina Jingles is a handmade miniature original, one-of-a-kind rabbit art doll figurine, hand painted and hand sculpted in paperclay by artist Elizabeth Ruffing.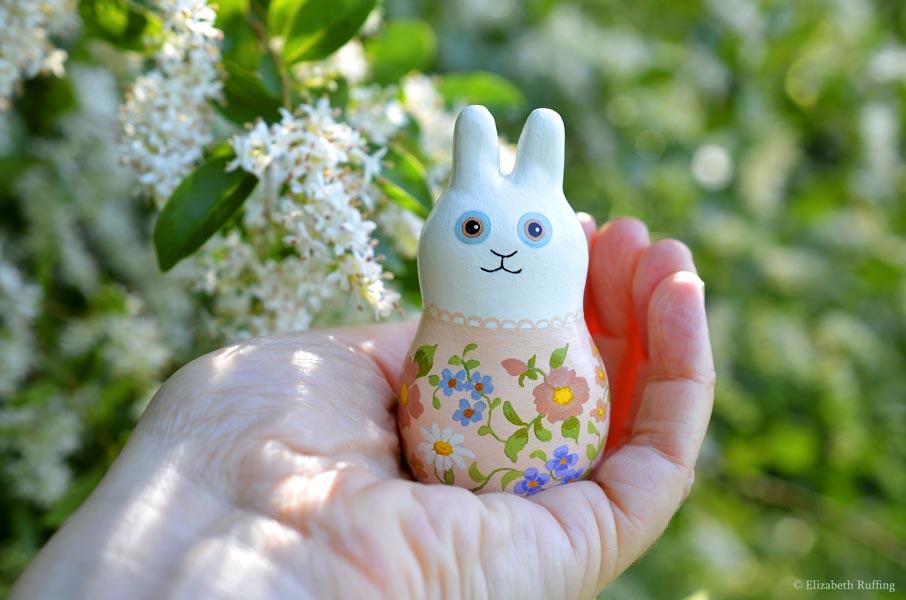 JJeanina is a white bunny with large blue eyes, dressed up in soft peach with pretty daisies, and mauve, blue, and violet flowers all the way around her body. She has a delicate painted scallop around her neckline.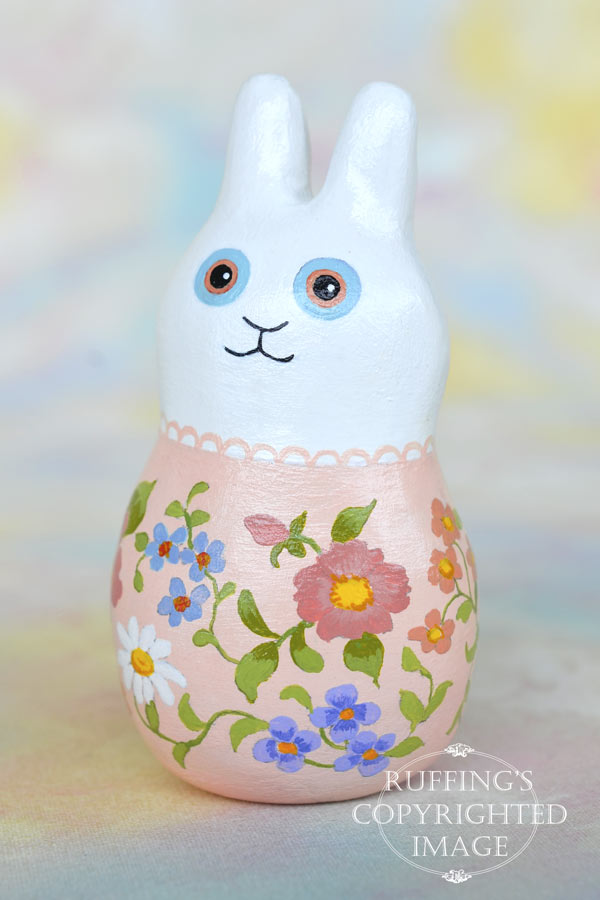 Jeanina Jingles likes to gossip with her friends at their Ladybuns' Bunny Luncheon Club. They order a plate of their favorite banana-and-cilantro tea sandwiches and some chamomile tea. Then they get down to business.
Mr Benjamin Bumperson, the greengrocer in town, has been particularly generous with carrot tops for Miss Bella Isabeau Bunnyfort this week.
Has everyone noticed the way his whiskers twitch, when she smiles at him?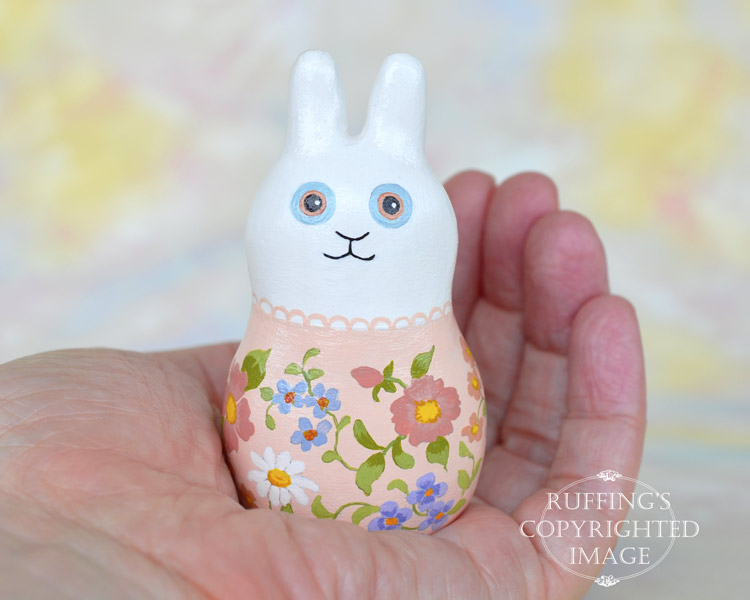 Jeanina Jingles promises to casually mention him to Bella, when she sees her next week at their bunny book club meeting. Everyone is keen to know if Bella may become Mrs. Bella Isabeau Bunnyfort-Bumperson. What a mouthful that would be!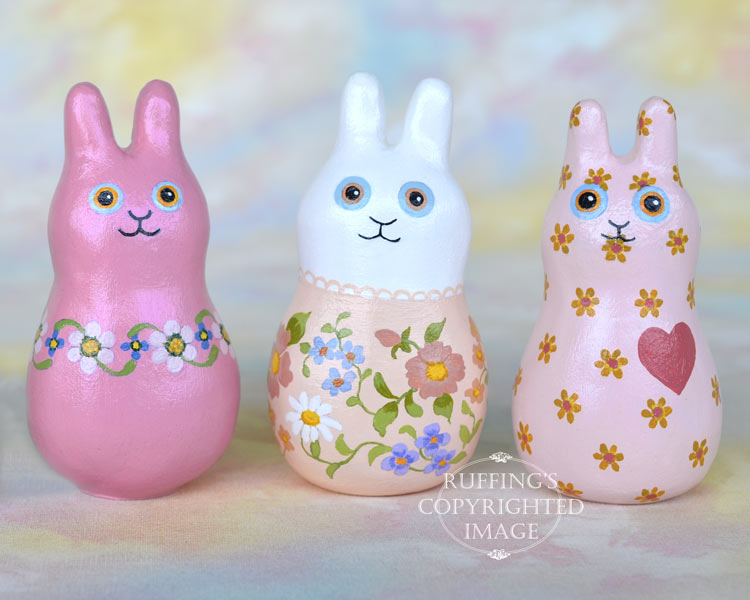 Jeanina Jingles is a one-of-a-kind work of art, and is meant for display only, not for play.
She was sculpted from paperclay over wood, in multiple stages, to allow for drying and detailing. Paperclay has a hardness similar to soft wood. Jeanina was painted under a magnifying light, with tiny brushes, using acrylic paints.
She is signed and sealed with gloss varnish for protection and preservation, and comes with a certificate of authenticity.
Jeanina Jingles is 3 1/8 inches (8 centimeters) tall. Please click here to go to Jeanina Jingle's adoption page. Jeanina's bunny friends are Maisie Maybunny and Buttons Bunnyton.
Happy Easter and Passover weekend, everyone!